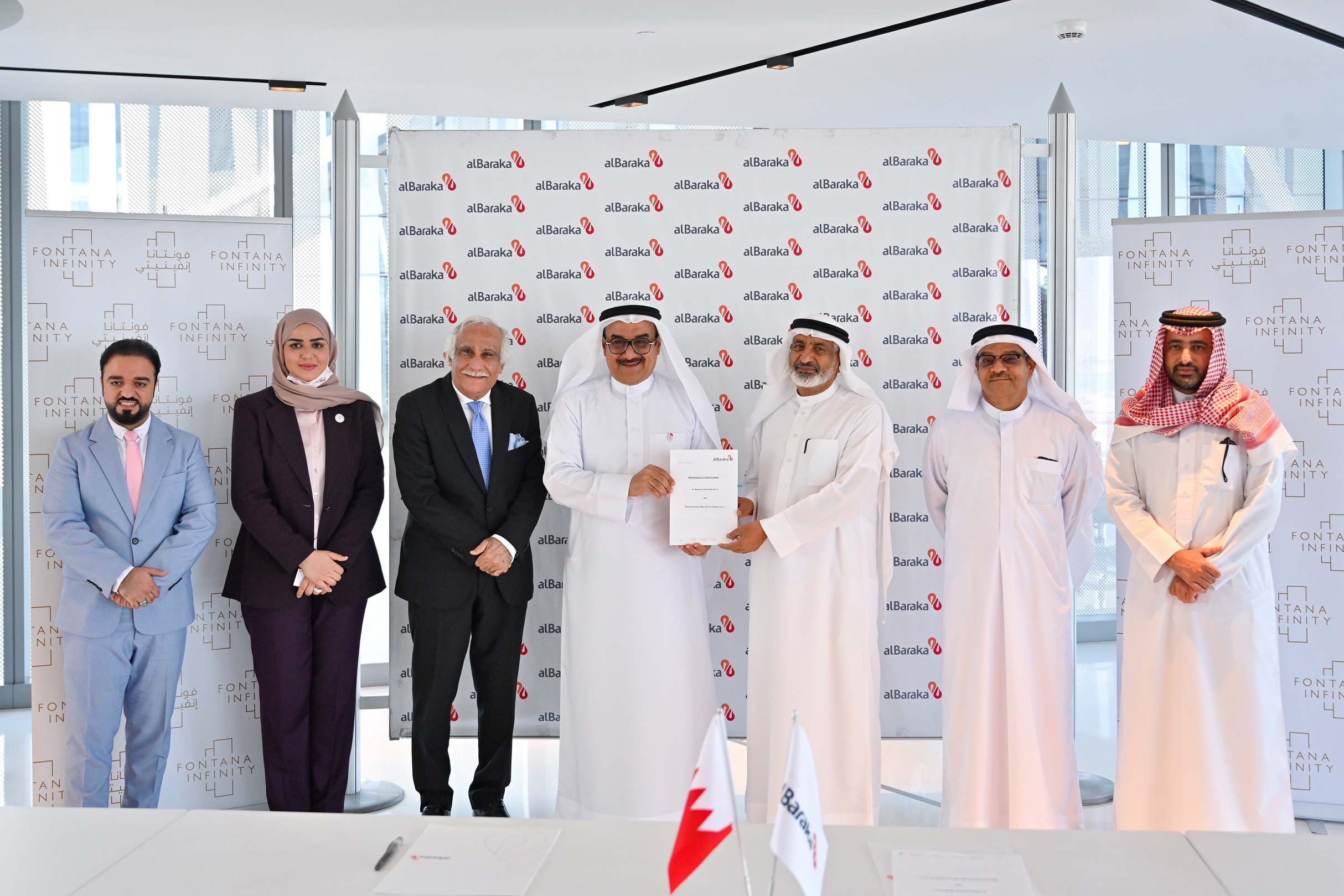 Fontana Real Estate inks finance deal with Al Baraka Islamic Bank
MANAMA, 15 days ago
Fontana Real Estate, one of the leading real estate developers in Bahrain, has signed an agreement with Al Baraka Islamic Bank of Bahrain (AIB), to provide financing for customers interested in owning an apartment in the recently-launched 'Tower B of Fontana Infinity" project.
A key development, Fontana Infinity offers residents a resort-lifestyle with key amenities including an artificial beach, swimming pools, games room, highly equipped office space and meeting rooms, kids' playgrounds, cinema, gym, and kayak in lazy river with tropical gardens.
This agreement comes as part of a strategic partnership between the two organizations to meet the needs of customers interested in Fontana Real Estate projects.
The signing ceremony was held at AIB's headquarters in the presence of senior officials Tariq Kazim, Head of Business Group and Fatema AlAlawi, Head of Retail Banking and Fontana Real Estate board members Engineer Mohammed Abdulghaffar Al Kooheji, General Manager of Fontana Real estate,
Abdulghaffar Abdulrahim Al Kooheji, Abdrabalnabi Ahmed Almaa, Enayat Jaberi and as well as a number of officials from both companies.
Mohammed Abdulghaffar said the deal with AlBaraka Islamic Bank was one of its kind, as it offered the opportunity to Bahrainis, GCC nationals and also expats to own apartments in Bahrain's most luxurious residential towers.
"The prices we are offering in Fontana Infinity Tower B is considered at best value for such a real estate project," he added.
According to him, this AIB partnership comes as part of Fontana's efforts to provide special funding to those wishing to own ready to move-in luxury apartments in the kingdom.
Kazim said: "We are very pleased and proud to be collaborating on such projects of high standards with distinguished developers. AIB has designed a special financing programme to cater to all types of potential customers, offering attractive financing terms."
"This step also stems from our commitment to contribute to the implementation of the housing objectives in the kingdom," he added.-TradeArabia News Service