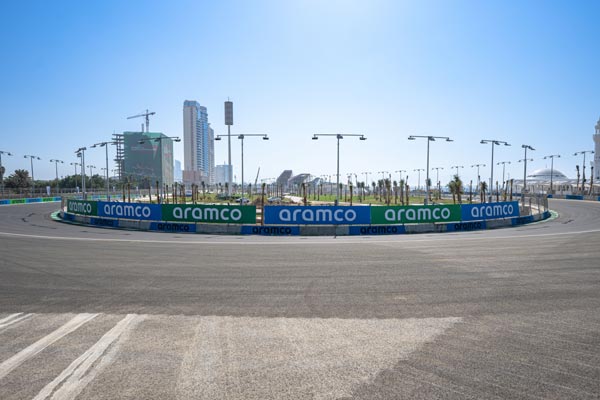 Saudi Arabia readies world's fastest F1 circuit for debut Grand Prix
JEDDAH, December 2, 2021
Saudi Arabia has announced the completion of the world's fastest and longest circuit in time for the kingdom's inaugural Formula 1 STC Saudi Arabian Grand Prix 2021 which kicks off tomorrow in the city of Jeddah.
Designed by Tilke Engineers and F1's own Motorsports Division to deliver spectacular racing, the Jeddah Corniche Circuit includes a record-equalling number of turns (27 in total: 16 left and 11 right), in addition to 3 potential high-speed DRS sections and a remarkable 12-degree banked corner at Turn 13 that is sure to become a favourite of drivers, broadcasters and ardent photographers alike, said the event organisers.
Located in Jeddah's stunning Corniche area on the Red Sea, the new circuit is sure to become one of the most extraordinary settings for a F1 race, with a spectacular coastal backdrop framing the incredible racing action on track.
The circuit design has made strong use of the long, sweeping roads along the corniche area, utilising this feature and existing roads as much as possible along the narrow stretch of coastal land within the confines of the general infrastructure, resulting in one of the most unique and challenging circuits yet to feature in Formula 1.
Set to make its long-anticipated debut in less than 48 hours, excitement levels are peaking as Saudi Arabia – and indeed the global F1 community – await the moment the world's best drivers first experience the newest F1 circuit in the world.
With seven-time world champion Lewis Hamilton and his prodigious challenger, Max Verstappen locked in a title battle for the ages, the penultimate race of this magnificent F1 season is perfectly set up to deliver an unforgettable and historic race weekend.
On the eve of the F1, the race promoter has released a stunning timelapse video telling the story of the how the world's longest and fastest street track – the Jeddah Corniche Circuit – came to be built in record-breaking fashion.
It also documents the construction journey of the circuit's remarkable Pit & Team building as it emerges into the stunning 280m-long, four-storey, cutting-edge structure that now stands at the heart of the Jeddah Corniche Circuit.
Taking the form of a composed landscape of multi-storey staggered buildings sitting splendidly alongside the main straight of the Jeddah Corniche Circuit, the Pit & Team building will overlook the starting grid and back on to Jeddah's majestic Red Sea coast.
Housing all team garages as well as the race control centre and the exclusive Paddock Club premium hospitality suites, the Pit & Team Building will provide guests with a magnificent view down on to the Pit Lane and starting grid where the most crucial moments of the racing action will occur this weekend, it stated.
Work on the track only began in April of this year, making it the fastest that any F1 circuit has ever been constructed - adding another record to its growing list of achievements, said the race promoter.
This stunning feat has required the concerted efforts of all stakeholders and staff, working in unison according to the highest levels of quality and in line with the ambitions and objectives as set out by the Kingdom's Vision 2030, which aims to build a more prosperous future for all people residing in Saudi Arabia, it added.-TradeArabia News Service