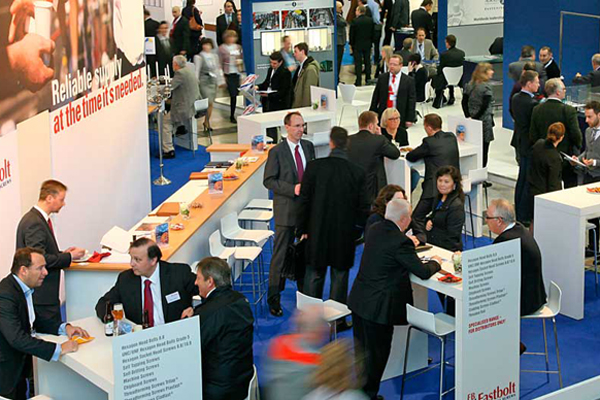 Fastener Fair Global gearing up for record-breaking edition
STUTTGART (Germany), 25 days ago
Fastener Fair Global, a major industry event for the connecting and fastening sector, is gearing up for a record-breaking event this year drawing some of the top companies and industry experts from 43 countries including Germany, Italy, China, India, UK and France.
The three-day event, which opens its doors on March 21 at Messe Stuttgart in Germany, has grown since the last event in 2019: now covering a net exhibition space of over 23,000 sq m, 1,000 sq m more compared to the previous event, said the organisers RX.
Fastener Fair Global 2023 is shaping up to be a record-breaking 9th edition as for the first time ever an additional hall has been allocated for the event at the exhibition ground which occupies four halls.
Thus, the exhibition reconfirms itself as an international marketplace for the fastener and fixing industry to find new business contacts, exchange expertise and build targeted business partnerships, it stated.
Commenting on the event build-up, Nicola Hamann, Managing Director at RX, said: "The strong exhibitor participation in Fastener Fair Global 2023 testifies to the importance of the event as a milestone for the fastener and fixing sector internationally and serves as an economic indicator of the growth of this industry."
"Benefitting from high investment in the construction sector, rising demand for industrial fasteners in the automotive and aerospace industries and continued growth predictions at a steady rate from 2022 to 2030, Fastener Fair Global 2023 is well-placed to showcase the innovations of companies at the forefront of this fast-moving industry," noted Hamann.
"Taking place across halls 1, 3, 5 and 7, over 980 exhibitors have joined the event to showcase a comprehensive portfolio of fastener and fixings products, machines, equipment, tools and related services. Exhibiting companies come from 43 different countries, reconfirming the international reach of the event<" she added.
Representing global firms, from SMEs to large multinational corporations, exhibitors mainly come from leading global markets such as Germany, Italy, China, Taiwan, India, Turkey, the Netherlands, the UK, Spain and France.
The top exhibitors include: Albert Pasvahl, Alexander PAAL, Ambrovit, Böllhoff, Chavesbao, Eurobolt , F. Reyher, Fastbolt Schraubengroßhandels index fixing systems, Inoxmare, Lederer, Norm Fasteners, Obel Civata San Vetic, Sacma Limbiate Spa, Schäfer + Peters, Tecfi Spa, Wasi and Würth Industrie Service.
According to Hamman, for manufacturers, wholesalers, distributors and suppliers, Fastener Fair Global is the ideal marketplace to source and trade products and solutions across all areas of fastener and fixing technology.
Fastener Fair Global welcomes distributors, suppliers, engineers and other industry professionals from a broad range of industries, such as construction, automotive, transport, electronic and electrical goods, energy and power generation and many more, she stated.
"To explore the wide variety of innovations, technologies and systems presented at the exhibition ahead of the event, attendees can access the Online Show Preview, which showcases the highlights of this year's event, and select in advance products and services they are interested in," she added.-TradeArabia News Service