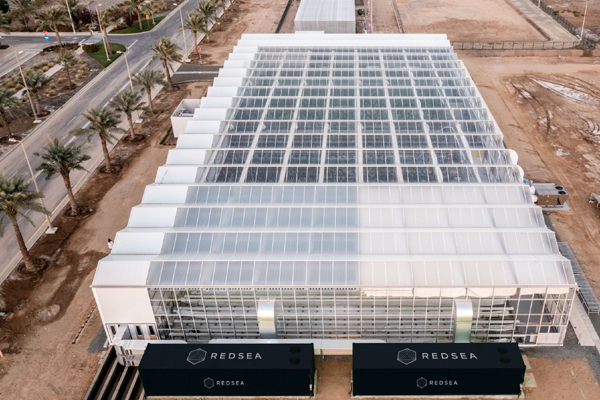 RedSea in deal with PIF unit to build greenhouses in Saudi Arabia
RIYADH, March 15, 2023
RedSea, the Saudi AgTech business whose one-of-a-kind technology enables commercial farming in hot environments globally, has signed an MoU with the Saudi Downtown Company, a fully-owned subsidiary of the kingdom's wealth fund PIF (Public Investment Fund).
The new partnership allows the two parties to discuss designing, building and operation of RedSea greenhouses at SDC locations across the kingdom, allowing the deployment of sustainable agriculture technologies everyone can benefit from.
Each downtown project is a mixed-use development that will provide a platform to enhance the quality of life and promote economic growth across 12 Saudi cities, delivering magnet attractions for each individual location.
The partnership will enhance the urban living experience through the integration of innovative, sustainable greenhouses into modern city landscapes with original concepts also designed to highlight the rich culture and tradition of each area, it stated.
The greenhouses are not only sustainable and include the most advanced technologies – the facilities will themselves become attractive destinations for visitors in their own right through their creative experience and culinary-driven offerings. New job and training opportunities for locals can be expected in the horticultural management, juice bars and cafes that will form the ensemble.
This collaboration is aligned with the Kingdom's vision and the quality of life objectives by enhancing green spaces and providing fresh, high-quality produce to local communities.
RedSea provides world-class expertise from a Saudi Made company that ensures a robust and science-based design of innovative sustainable agriculture technologies for very hot climates.
Its technologies span from the roots of the fruits and vegetables to the roof of the greenhouse and have been proven in its 6-ha facility near Riyadh and its research and development facility in KAUST.
Ryan Lefers, the CEO and co-founder of RedSea, said: "We are excited to announce our collaboration with SDC. The greenhouses are not only sustainable and inclusive of the most advanced technologies – the facilities themselves are designed as experience centres for community visitors whilst also providing agriculture education as well as economic advantages."
"We are delighted to be working with key Saudi partners such as SDC to further our mission to feed the world sustainability while significantly scaling our business," he added.-TradeArabia News Service