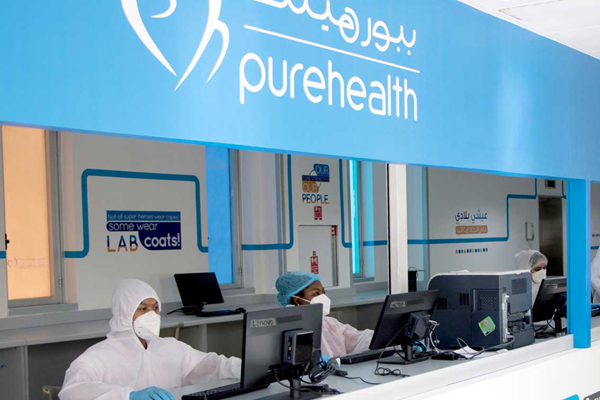 PureHealth allocates $3.5bn for UAE procurement by 2032
ABU DHABI, June 1, 2023
PureHealth, one of the largest integrated healthcare platform in the Middle East, today (June 1) reinforced its commitment to the National In-Country Value (ICV) Program – one of the key pillars of the national industrial strategy – by announcing a 30% increase in its 10-year commitment to local procurement, taking its total commitment to AED13 billion ($3.5 billion) by 2032.
The announcement took place on the sidelines of the Make it in the Emirates Forum at the Abu Dhabi Energy Center.
Last year, PureHealth joined the National ICV Program following an a MoU with the Ministry of Industry and Advanced Technology (MoIAT). During the inaugural Make it in the Emirates Forum in 2022, PureHealth announced it would procure AED10 billion worth of products from local suppliers, including medicines and medical products.
This year, it has announced a further AED 3 billion for local purchases, bringing the total value of its local procurement commitments to AED 13 billion. The National ICV Program supports the growth and development of the UAE's national industrial sector and boosting its competitiveness.
Omar Al Suwaidi, Undersecretary of the Ministry of Industry and Advanced Technology, said: "The National ICV Program, which is among the UAE's Projects of the 50 and falls under the national industrial strategy, has succeeded in synergizing the ministry and its government and private sector partners in supporting entrepreneurship and innovation across the industrial sector, especially among small and medium-sized enterprises."
Al Suwaidi pointed out that ICV-certified companies contributed an estimated AED 53 billion to the national economy in 2022.
"As the initiative continues to empower the industrial sector and boost its performance and sustainability, it redirects higher portions of public and private sector spending into the national economy," he stated.
PureHealth Managing Director and CEO Farhan Malik said: "Last year, PureHealth made a commitment to boost its contribution to the In-Country Value Program, which is an important long-term program aimed at building a sustainable and more prosperous future for the UAE."
"As part of this commitment, we are pleased to announce a 30% increase in our 10-year commitment to procure from local suppliers, raising the total value to AED 13 billion by 2032. ICV is not just a nice-to-have program but a must-have program that brings long-term benefits to participating entities and the government. If you wish to create long-term gains, you need to make long-term commitments," he added.
PureHealth's announcement contributes to the AED 10 billion of procurement opportunities announced at the second Make it in the Emirates Forum. The additional opportunities build on last year's AED 110 billion of offtake agreements.
PureHealth will allocate the opportunities across all buckets of its local procurement in Technology and General Services, Medical Consumables and Supplies including diagnostic consumables, gastro and hepatobiliary systems, laboratory storage and packaging, and patient care, and pharmaceuticals.-TradeArabia News Service