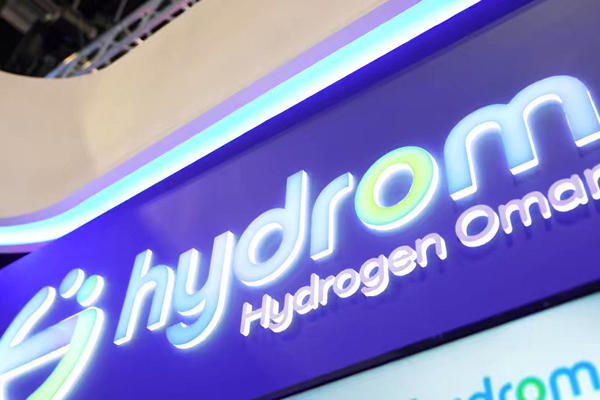 Hydrom inks deals for Oman's first green hydrogen projects
MUSCAT, June 2, 2023
Hydrogen Oman (Hydrom), a subsidiary of the sultanate's Energy Development Oman (EDO), has signed three agreements awarding the first green hydrogen projects in Oman, thus signifying a key milestone in the country's journey to become a global hub for green hydrogen production.
The agreement was inked as a result of the first round of Hydrom's public auction process to award large-scale integrated green hydrogen projects to developers.
The auction was held in November last year to award land blocks in Duqm and Dhofar areas for green hydrogen projects in 2023, in order to meet the 2030 production target of 1 million tons per annum (mtpa) of green hydrogen.
As per the auction requirements, Oman expects the winning developers to deliver integrated projects, covering the full green hydrogen value chain, including renewable production, hydrogen production, hydrogen derivatives conversion and offtake.
Announcing this, the Ministry of Energy and Minerals said the total investments in these three projects signed with a consortia of Amnah, Green Energy Oman (GEO) and BP Oman is expected to top over $20 billion.
It joined the Ministry of Housing and Urban Planning and Hydrom for signing a Head-Usufruct Agreement, granting land rights for renewable energy and clean hydrogen projects.
Hydrom said these contracts are expected to yield a total production capacity of half a million tonnes of green hydrogen per annum from more than 11.5 GW of installed renewable energy capacity at the three sites, each covering an area of 320 sq km in the Al Wusta Governorate.
The first of two blocks (Z1-01) in the public auction process launched in November last year was awarded to a consortium of Copenhagen Infrastructure Partners (CIP), Blue Power Partners (BPP) and Al Khadra, part of Oman's Hind Bahwan Group.
The consortium will develop around 200 KTPA of green hydrogen from 4.5 GW of installed renewable energy capacity, for planned green steel plants located in Port of Duqm, within SEZAD.
The anticipated annual production for this project is 150 KTPA of green hydrogen from 3.5 GW of installed renewables capacity in Block Z1-03.
Additionally, the third project was signed with the consortium of Green Energy Oman (GEO) for the development of green hydrogen for the purpose of exporting Ammonia.
The consortium includes Oman's integrated Energy Company OQ, Shell Oman, Kuwait's state-backed energy investor EnerTech (ETC), InterContinental Energy (ICE) and Golden Wellspring Wealth for Trading (GWWT).
This project is expected to produce 150 KTPA of green hydrogen from 4 GW of installed renewables capacity in Block Z1-04.
Moreover, Hydrom entered into a memorandum of understanding (MoU) with OQ Gas Networks (OQGN) with an aim to establish collaboration between the parties in the field of green hydrogen pipeline development.
Earlier this year, Hydrom also signed six term-sheet agreements with developers from Belgium, the Netherlands, UK, Japan, Singapore, Germany, India, Kuwait and UAE for hydrogen production over the next seven years..-TradeArabia News Service