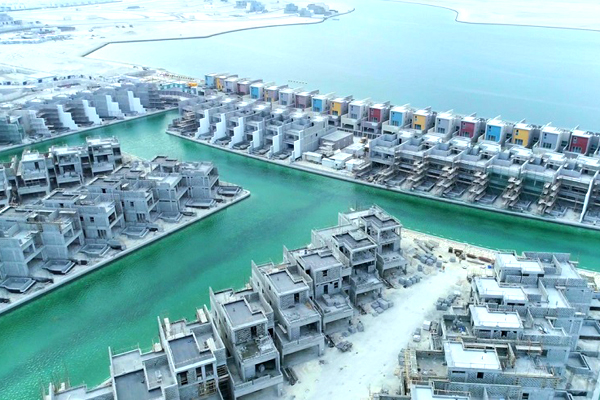 Diyar Al Muharraq's villas project on track for Q4 completion
MANAMA, June 5, 2023
Diyar Al Muharraq, a leading real estate development company in Bahrain, has announced that work is in full swing on the Al Naseem villas project - located within the Southern Island of its mega integrated city - with over 50% of the construction works on the second phase already completed.
Work on the project was first launched in April last year, with works continuing at an accelerated pace in line with the set schedule. The project is expected to complete in the final quarter of 2023.
The scope of work for the second phase of Al Naseem villas includes all basic infrastructure. The remaining work includes the road pavement, the development of show villas as well as 114 of the project's villas.
Diyar Al Muharraq said the overall progress has been sustained by completing all the works related to the superstructure and the blockwork for all the villas, in addition, various finishes are in progress. The project includes 6 types of residential villas spanning approximately 305 to 384 sqm.
Al Naseem's villas have a variety of features including three- to four-bedroom units, based on the residents' requirements, in addition to several essential facilities. The villas have direct access to the water canals as well as a private pool and an on-demand elevator.
On the project work, CEO Engineer Ahmed Ali Alammadi said: "We are pleased to announce the completion of over 50% of works on the second phase of Al Naseem villas. We owe our thanks to the resilient efforts and rigorous follow-up of our real estate development team."
"We hope that the same pace of work is maintained to achieve the completion and launch of the second phase this year while complying with the same high-quality standards of construction at Diyar Al Muharraq. We are eager to complete Al Naseem Phase Two to provide luxurious community surroundings with integrated facilities that meet our residents' various needs, while being the first gated villa community in Diyar Al Muharraq," he added.
Diyar Al Muharraq is the largest integrated city in the Kingdom, offering a variety of housing solutions and a luxurious modern lifestyle. It offers a balanced mix of residential, commercial, recreational, and healthcare facilities that encompass a smart, self-contained, futuristic model city.