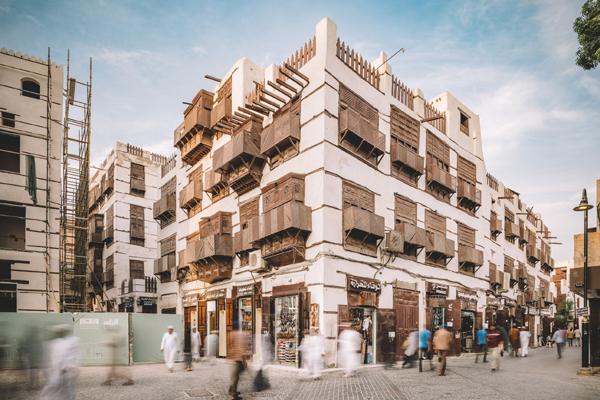 SNC-Lavalin lands contract for Historic Jeddah development
JEDDAH, June 7, 2023
SNC-Lavalin, a global leading engineering and construction group, said it has been awarded a two-year project management consultancy (PMC) services contract by the Saudi Ministry of Culture to support the development of Historic Jeddah, a Unesco World Heritage site.
The Historic Jeddah area, known locally as Al Balad (the town), is situated on the eastern shore of the Red Sea and was established in the 7th century AD as a major port for Indian Ocean trade routes, channeling goods from Jeddah to Makkah.
It is expected to become an incubator for Saudi entrepreneurs and artists where they can meet within a creative community that combines national heritage with nature and contemporary architectural designs.
The Historic Jeddah area boasts more than 600 historic buildings, 36 historical mosques and five major historical markets. It also holds ancient corridors, squares and sites of important historical significance.
According to SNC Lavalin, the project work will extend for the next 15 years, during which the Historic Jeddah area will be developed according to multiple tracks, including infrastructure and services, developing the natural and environmental field, improving the quality of life, and enhancing urban aspects.
The ministry aims to create an integrated environment in Historic Jeddah that has multiple natural components, including 5km of developed waterfronts, green spaces and open gardens covering 15% of the total project area of 2.5 sq km.
As per the contract, SNC-Lavalin will provide PMC services across the Historic Jeddah Development Programme, including project and cost consultancy services for site-wide utilities, design management, program set up and governance processes and procedures.
In addition, it will oversee the co-ordination with programme stakeholders - starting from real estate development to infrastructure, public realm and landscape - to ensure the historic and non-historic building protection measures are met.
These services will be executed throughout the masterplanning, design, tender and construction stages, it stated.
The Historic Jeddah Development Programme is aimed at revitalising the living space in the city by attracting new businesses and cultural projects, based on a modern vision of urban planning and natural conservation harmonised with the people's needs, it added.
On the contract win, President and CEO Ian L Edwards said: "Engineering a better future for our planet and its people is our north star for driving long-term impact in communities where we operate. The rehabilitation of Historic Jeddah is a significant project that will showcase the kingdom's authentic cultural heritage and support its socio-economic development agenda by providing great opportunities for residents, visitors and entrepreneurs."
"We are proud to work with the Ministry of Culture on this world heritage landmark and be a part of delivering a lasting legacy for future generations in Saudi Arabia," he stated.
Philip Hoare, President, Engineering Services, UK & Europe, Middle East, India and Canada, SNC-Lavalin."The Kingdom of Saudi Arabia has a rich culture shaped by the diversity of its people and built environment. The Historic Jeddah Development Program will play a key role in supporting Saudi Arabia's Vision 2030 goals of improving the quality of life within the city's historical area and driving cultural tourism," said
"By combining our global expertise with local knowledge, we can drive efficiency and value throughout the project, adopting a fully integrated program and project management approach underpinned by digital solutions and net zero best practices."
In addition to Historic Jeddah, the SNC-Lavalin Group, including Atkins and Faithful+Gould, has supported restoration projects in two of Saudi Arabia's most significant UNESCO World Heritage Sites.
The group is the lead masterplanning consultant for Diriyah, a 11 sq km mixed-use historic, cultural and lifestyle destination created in a Najdi architectural style that showcases the kingdom's authentic heritage.
Over the past three years, SNC-Lavalin have been working with the Royal Commission for AlUla to deliver a sustainable transformation of AlUla region as a leading global cultural and natural heritage destination. This includes cost management, programme and project management, advisory services, masterplanning as well as construction supervision.-TradeArabia News Service