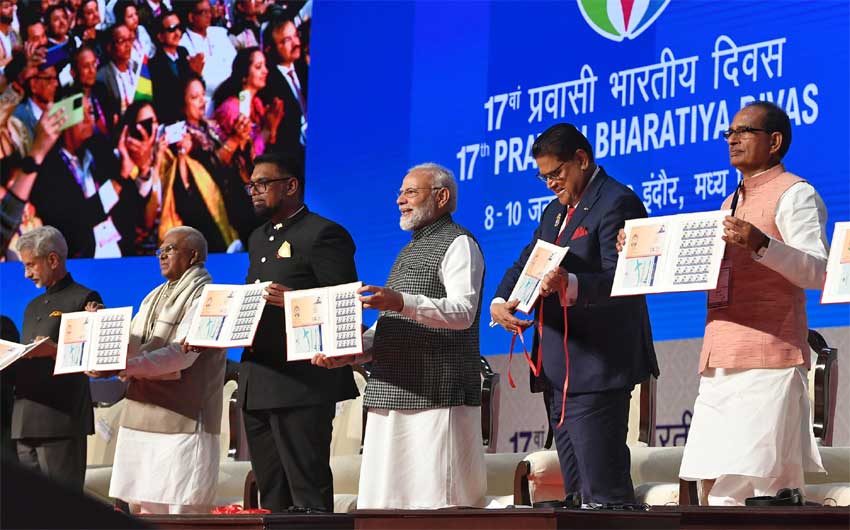 Indian PM releases stamp in honour of overseas workers
NEW DELHI, January 10, 2023
India's Prime Minister Narendra Modi today (January 10) honoured his country's migrant workers abroad by releasing a commemorative postal stamp on the theme "Surakshit Jaayen, Prashikshit Jaayen."
The Hindi words mean "go safely, go trained," the motif of India's overseas migration process in recent years. Most of India's migrant workers live in the GCC countries, reported Wam.
"In the last eight years, India has tried to strengthen its diaspora," Modi said while inaugurating the 17th Pravasi Bharatiya Divas Convention in Indore in Madhya Pradesh state. "It is India's commitment today that wherever you are, the country is for your interests and expectations," he stated.
The biennial Convention commemorates the return of Mahatma Gandhi, father of the Indian nation, to Bombay from South Africa on 9th January 1915, to eventually start the struggle for freedom for his people from colonial rule.
Modi also inaugurated the first digital exhibition on the theme "Contribution of Diaspora in Indian Freedom Struggle".
In his inaugural address, Modi said: "The Indian diaspora has made extraordinary contributions to nation-building in the countries they migrated to. We should document their lives and their achievements. I urge that through universities, efforts should be made for audio-video or written documentation on the history of our diaspora in every country."
Inaugurating the Youth Pravasi Bharatiya Divas Convention, India's External Affairs Minister, Dr S Jaishankar, said India has the largest diaspora in the world, numbering 34 million, reported Wam.
"It is a matter of pride for us that centres of faith are growing abroad, and the one in Abu Dhabi has attracted particular attention," Jaishankar said.
"The centres of faith are growing abroad because they also serve to inculcate values, promote culture and nurture traditions," he added.