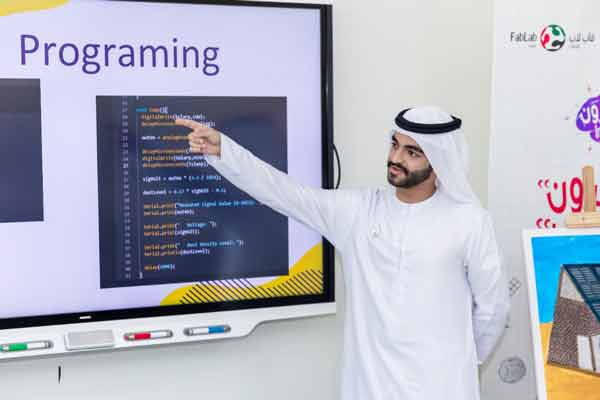 Announcing the winners
Results of 'Innovators Competition 2022' announced
DUBAI, January 12, 2023
Hamdan bin Rashid Al Maktoum Foundation for Distinguished Academic Performance has announced the results of 'Innovators Competition 2022' which witnessed remarkable participation from all age groups.
The competition's organisers received 157 entries from participants between the ages of 9 and 15 through the 'Fab Lab UAE' website. Six winning entries and fifteen distinguished ideas were recognised.
Among the winning projects in this category were 'Sign Language' project, by the student Asmaa Abdullah Al-Shehhi from the Applied Technology High School in Ajman, 'Energy Challenge' project by the student Jawaher Abdullah Rashad from Jumeirah School, 'Henna Device' project by the student Afnan Haitham Ismail from the Martyrs School, 'Shadow Bag' project by Khaled Walid Al-Awadi from Al-Rashidiya School, 'Smart Medicine Medal' project by the student Ghanem Muhammad Al-Suraidi from Masafi School in the second cycle and secondary education, and 'Fruitful Farm' project by the student Hamad Salah Amin from Dubai National School.
35 teams
As for the age group of 18 years and above, the number of participating teams was 35 teams from various universities in the country and 4 winning teams were selected by the jury, namely, 'The BotPot' project by Baraa Hamdi Musa Al-Jilani and Ahmed Fathi Ahmed Abu Issa, 'The Bright Light' project by Saeed Saqir Saeed Al Shehhi, Abdul Rahman Tariq Al Shamsi and Hamdan Marwan Abdullah Al Shehhi, in addition to 'The rescue' project by Israa bint Adel bin Munawar, Hajar bint Adel bin Munawar, and Muhammad Faiq Muhammad and 'Plant Care' project, which was presented by Saleh bin Muhammad bin Saleh Al-Suhail.
Dr Khalifa Al Suwaidi, Secretary-General of the Hamdan bin Rashid Al Maktoum Foundation for Distinguished Academic Performance, said: "The 'Innovators Competition' is one of the pioneering initiatives launched by the Foundation as part of its endeavour to support talented people and encourage them to present their innovations and creative ideas, turn them into a tangible reality and apply them for the benefit of society.
"In addition to realising the vision of the wise leadership to promote and spread a culture of creativity and innovation, this helps to support all efforts and endeavors made by universities and scientific institutions in the country to graduate generations capable of creativity and innovation. It also helps to strengthen the UAE's position as a global destination for talented and innovative people."
Identifying talent
"The 'Innovators Competition' continued to grow its participant base with tremendous success during its previous sessions. It also succeeded in identifying a lot of talents and assisting a lot of people in making their concepts a reality, which helped draw in more noteworthy ideas. A committee of experienced assessors examined the participating projects using the most recent international arbitration standards to ensure integrity and transparency. As a result, the contributions to this session contained many original ideas and remarkable initiatives," added Dr Al Suwaidi.-- TradeArabia News Service