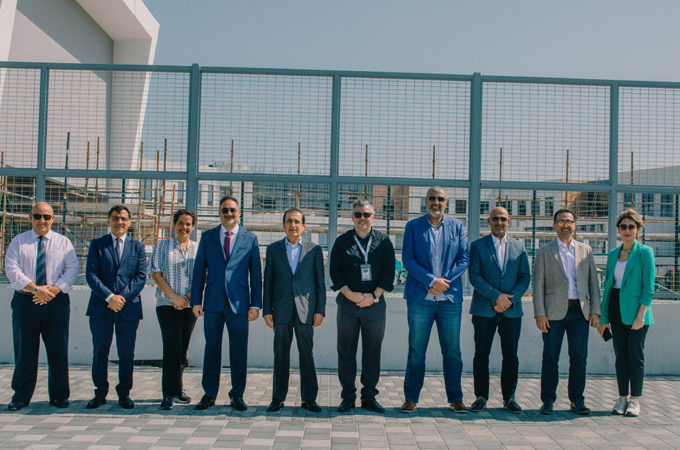 New Nadeen School to be ready in Dilmunia this month
MANAMA, April 2, 2023
The new Nadeen School campus project, being developed at Dilmunia Island in Bahrain, is expected to be completed by the end of this month (April 2023).
The school is being built in a joint venture (JV) between Naseej BSC, Ithmaar Development Co and Nadeen School Bahrain.
The JV partners made a site inspection visit to the school recently to monitor the project's overall construction progress ahead of its planned completion date.
The new Nadeen School campus project is being developed on a fast-track basis over a time frame of just 12 months.
The new school is expected to welcome about 1,050 students of both genders for the new academic year starting September 2023 and will include all academic levels of education.
The school has 44 classrooms and additional shared spaces to provide a high-quality and healthy learning environment for students and teachers. The school is built on a plot of 17,462 sq m, with a built-up area of approximately 22,500 sq m.
The new state-of-the-art educational facility has been designed and built as a U-shaped building with open spaces, wide corridors and plenty of opportunities for natural sunlight to filter through for healthier and more sustainable learning standards.
The campus has a semi-Olympic indoor swimming pool with other joining pools, science and biology laboratories, a massive library, a health centre, art halls, a large canteen and an indoor physical educational gymnasium. The school also features "outdoor classrooms" for the cooler months in order to cultivate improved learning and teaching techniques in the effort to enhance student learning.
During the visit, Naseej's Chief Executive Officer Amin Al Arrayed stated: "In partnership with our JV partners, we are proud to deliver on our corporate vision to build sustainable communities that build Bahrain. We remain focused on Naseej's strategic commitment to develop other sector specific real estate projects in the Kingdom of Bahrain; not restricted to the housing and residential projects. Together with our JV partners, Nadeen School is Naseej's first non-housing and residential real estate project and we are very excited about delivering this project by the end of April 2023; with a short development period of just 12 months. We are also in a position to note that the school campus shall be ready for the upcoming academic school year in September 2023.
"Looking ahead, Naseej is well and truly positioned to develop other real estate projects in the Kingdom of Bahrain which may include projects within the sectors of healthcare, light industries, and social infrastructure projects," said Al Arrayed.
The school's educational campus has been designed by Mohammed Salahuddin Engineering Consultants (MSCEB), and construction and contracting is being carried out by Al Ghanah Contracting Co.
Ithmaar Development Co's Chief Executive Officer Mohamed Khalil AlSayed said: "As the master developer of this project, we are delighted to announce that the Kingdom of Bahrain's newest educational campus is coming to light. The campus is being developed in record time thanks to the collaboration of all JV partners, its design and contractual contractors. We are pleased to see that we are now at the final stages of project completion, and Nadeen School will soon have its very new school campus at the Island of Dilmunia.
"The launch and operation of Nadeen School will add greater success to the story of the Dilmunia Island, which today has turned into an integrated community with its modern services and facilities," he said.
"The completion of the project in record time reflects the capabilities of the Ithmaar Development team as a the master developer of this project, whereby they managed the consultants and contractors, and in partnership with its strategic partner Naseej. We look forward to the school becoming a major addition to the Island's integrated and balanced lifestyle," AlSayed added.
On the part of the school's operator, Shani Puri, Founder of Nadeen School, said: "This year, Nadeen School is celebrating its 45th anniversary and is a globally recognised, highly rated school. We are delighted to establish the latest educational school campus in the Kingdom of Bahrain, which will provide students with a world-class education experience in line with best and international standards and practices.
"We take this opportunity to thank our partners Naseej, Ithmaar Development Co, MSCEB, and Al Ghana Contracting for their remarkable efforts to complete this project in record time, which will have the greatest impact in providing an exceptional educational and learning experience for students. A modern educational campus based on our values, educational spirit, sustainability and the fundamental principle of putting students at the heart of everything we do," she said. - TradeArabia News Service