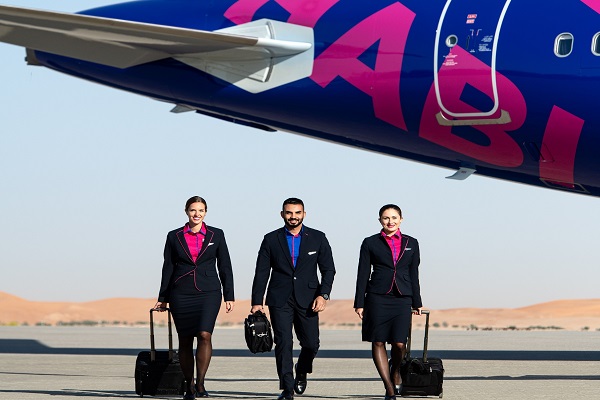 Wizz Air Abu Dhabi launches big recruitment drive
ABU DHABI, May 6, 2023
Wizz Air Abu Dhabi, the ultra-low-fare national airline of the UAE, is launching an ambitious recruitment drive with a Go Pink campaign, in response to the continuous regional growth of the airline.
Wizz Air Abu Dhabi is a joint venture between ADQ, one of the region's largest holding companies with a broad portfolio of major enterprises spanning key sectors of Abu Dhabi's diversified economy, and Wizz Air Holdings, the fastest growing European ultra-low-cost airline, operating a fleet of 181 Airbus A320 and A321 aircraft.
The national airline and the second largest carrier in Abu Dhabi by seat capacity, Wizz Air Abu Dhabi, currently has 400 aviation professionals employed locally with financial stability opening many exciting opportunities for recruitment and career growth within the organisation.
The Go Pink campaign will kick off on May 9 with a virtual open day for pilots and interested candidates can apply through the following link Pilots open day link, said the statement from Wizz Air Abu Dhabi.
The airline has also called upon pilots and cabin crew of crisis-hit Indian ultra-low-cost airline Go First to apply for their dream jobs in the Wizz team, it added.
Wizz Air Abu Dhabi said the cabin crew recruitment is ongoing and interested candidates could apply through the Cabin Crew open day link.
The deadline for the registration has been set at May 8, said the Abu Dhabi carrier, adding that once the registration is done a link will be sent to join the event.
Managing Director Johan Eidhagen said: "Wizz Air Abu Dhabi is committed to carrying the flag of ultra-low-cost travel in the region and our ambitious recruitment drive will enable more travellers to explore must-see culturally rich destinations including vibrant cities and natural paradises."
"We are proud of our phenomenal recent growth throughout Europe, Africa, Central Asia and the Middle East and expanding our team of highly committed aviation professionals will allow us to continue developing our extensive route network," he stated.
Calling upon the pilots and cabin crew of the crisis-hit Indian carrier, Eidhagen said: "We encourage our aviation colleagues from Go First who want to continue their careers in a financially stable, ever-growing airline to apply. We look forward to sharing our love of travel and seeing you on board our aircraft soon."
"Travel lovers dreaming of a unique place of work with a just environment while being on the go and meeting new people are encouraged to apply. With a comprehensive, industry-leading package of attractive perks and benefits, successful candidates will access career development opportunities and a flexible roster to enable a work-life balance," he stated.
The successful candidates will be part of a new family of more than 8,000 aviation enthusiasts and act in accordance with Wizz Air values: dedication, inclusivity, positivity and integrity, he added.