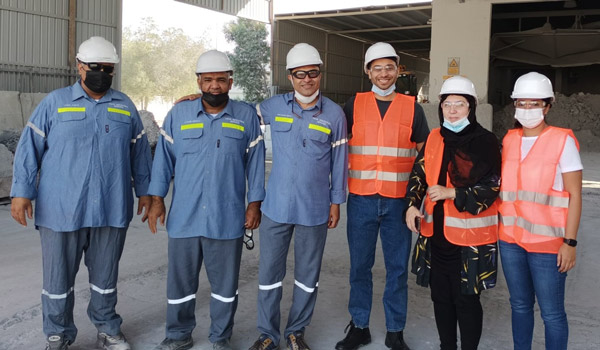 The Taha team
Taha supports Bahrain achieve net-zero carbon emissions
MANAMA, November 24, 2021
Bahrain's Taha International for Industrial Services has employed the aluminium dross process, a radical innovation which consumes less energy and produces no toxic salt cake, while keeping the carbon emission at close to zero.
Welcoming a delegation of representatives from several governmental and private sector entities on a field tour to its headquarters at Ma'ameer, Taha briefed to them about its patented technology that has been registered in its name.
Ammar Awachi, CEO of Taha said: "This visit is part of the company's commitment to supporting the government's efforts to reach net-zero carbon emissions by raising knowledge of best practices and applications in the industrial sector, which are critical in decreasing emissions and safeguarding the environment."
Awachi explained to the visiting delegation how Taha processes aluminium dross by smelting aluminium with 90% less energy than the traditional method and then manufacturing the slag after filtering and turning it into other high-value products and applications in various fields rather than burying it or polluting the environment.
Awachi said that the company has granted a licences to use this technology to other companies around the world, including firms in India.
In a statement on the sidelines of the visit, Awachi said: "Our goal is to help the aluminium industry thrive by delivering new value-added products, while also being completely dedicated to safeguard the planet's resources."
Awachi stated: "Taha is ready to allow the licensing of this Bahraini technology to industries all over the world. We are delighted with our company's creation of this technology in Bahrain enhancing its contribution to tackling global environmental and climatic challenges."-- TradeArabia News Service