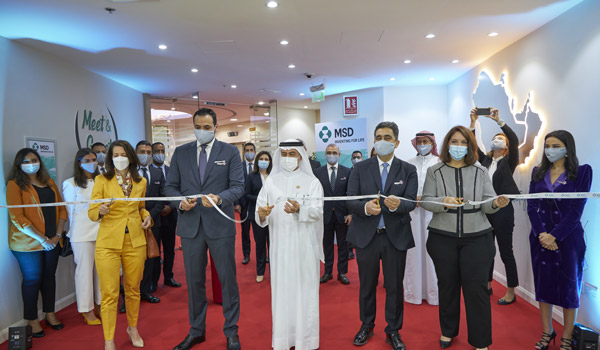 The MSD HQ inauguration
MSD inaugurates newly redesigned GCC headquarters
DUBAI, November 24, 2021
MSD, a leading global pharmaceutical company, has inaugurated its newly redesigned regional headquarters, which seeks to deliver an activity-based workplace that brings to life the firm's new Ways of Working philosophy.
The remagined offices in Dubai Healthcare City was opened in the presence of Dr Amin Hussain Al Amiri, Assistant Undersecretary of Public Health Policy and Licensing at the UAE Ministry of Health and Prevention; Meghan Gregonis, the US Consul General in Dubai and Cara Nazari, Managing Director, AmCham Dubai.
Key MSD executives including Renan Ozyerli, Region President, Eastern Europe Middle East and Africa (EEMEA) and Ashraf Mallak, Managing Director, MSD GCC attended the event along with more than 200 team members who joined through digital channels to celebrate the company's newly launched hybrid working model and Ways of Working philosophy.
The goal of MSD's new Ways of Working philosophy is to ensure that the workplace environment enhances collaboration, networking, employee experience and supports the team's ability to respond quickly to changing business needs.
In line with this philosophy, MSD's Work From Home Policy offers a high degree of flexibility to provide employees the option to select their workplace according to their preferences and business requirements while maintaining the best possible work-life balance.
MSD has been operating in the UAE through a local partner network, establishing its first office in the UAE in Abu Dhabi in 2002 and in Dubai Healthcare City in 2011.
The Dubai headquarters oversees key regional markets including the GCC and also caters towards EEMEA. The company's portfolio in the GCC has grown from primary care, providing treatments for pain, cholesterol, and diabetes to now also covering hospital acute care, oncology and vaccines.
MSD has more than 300 employees across the region, including more than 140 employees in the UAE, with 47 local market authorisations and plans to introduce four new products this fiscal year.
Dr Al Amiri said: "The UAE's strong commercial infrastructure and the organisational facilities provided to companies have made it an ideal destination for international pharmaceutical companies to operate and manage their operations across the region. This has also contributed to providing a package of attractive investment opportunities for pharmaceutical companies in a highly competitive atmosphere."
Dr Al Amiri also highlighted the ministry's keenness to strengthen the strategic partnership with global pharmaceutical companies to ensure early access to innovative medicines, and provide the best treatments to patients, along with supporting the pharmaco-economics system in the UAE.
This is in line with the ministry's strategy to provide comprehensive and innovative healthcare to community members in accordance with the highest international standards, he noted.
"Our cooperation with MSD with regards to the regulatory file for a new Covid-19 treatment falls within the pioneering efforts being made by the UAE in terms of the effective response to the pandemic, by attracting and providing innovative medicines proven to the effective and efficient, to be incorporated into treatment protocols."
Ozyerli added: "Our company has maintained a presence here for close to 30 years, and this new location demonstrates our continuing commitment to saving and improving the lives of patients and communities in the UAE and the broader GCC region."
Mallak said: "We took the time away to reimagine how we use our physical spaces and want to reinforce our commitment to the UAE through our continued investments. Our most valuable assets continue to be our team and they are instrumental in driving our growth, capabilities and business partnerships.
The Activity Based Workplace concept, implemented at MSD UAE provides employees with a choice of work environments that can help balance individual and collaborative time. Spread over two floors, covering an area of 1,400 sq m.
The hybrid workspace has been developed by Kinnarps Project Solutions, a design and build firm. The newly designed space is interspersed with open collaborative spaces, innovation areas, focus rooms, a library, state-of-the-art fitness equipment, a pink room for the female colleagues and video conferencing facilities. The design and ambient features have been inspired by input from the teams and reflect MSD's core values.
Gregonis stated: "MSD brings to the region years of global heritage within innovation and is a shining example among US pharmaceutical companies investing in the UAE's vision of a diversified knowledge-based economy that also is a hub for medical tourism. The UAE is the US' largest export destination in the Middle East, demonstrating the success of the UAE's increasingly diverse economy with non-oil sectors accounting for 70% of the GDP."
Nazari said: "With the inauguration of this amazing office, MSD is clearly reaffirming its commitment to be a trusted partner to the UAE and the region. We, at AmCham Dubai also trust that this reaffirms their deepening engagement as members. Our board has recognised many times during the global crisis how grateful we are to call the UAE home and we are equally inspired by all that team America has put forth! MSD is certainly a leading contributor in this regard, and we wish them continued success!"
MSD has been recognised among the number one Best Workplaces in Pharma and Healthcare sector in the GCC region by Great Place to Work for its employee engagement, inclusive culture and a diverse team representing more than 30 nationalities.
MSD has rolled out the hybrid work model in several countries across the world, combining in-person collaboration and remote work, supporting breakthrough innovation and business results while enabling better team collaboration, enhanced flexibility and improving employee well-being and experience.
-- TradeArabia News Service