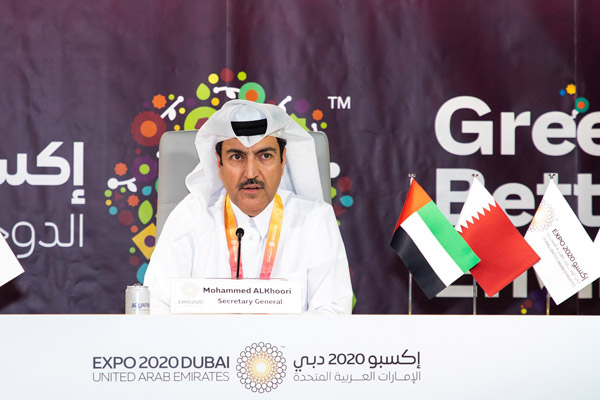 Mohammed Ali Al Khoori
Qatar introduces 'International Expo 2023 Horticulture Doha'
DUBAI, November 29, 2021
Qatar will host the Expo 2023 Horticulture Doha, which will witness the participation of 80 countries along with a number of international organisations and representatives of the private sector.
It will be the first Horticulture Expo in the Middle East and North Africa, a region dominated by a desert climate, officials from Qatar announced at Expo 2020 Dubai.
Attendees will come together for 179 days from October 2, 2023 to March 28, 2024 over an area of 1.7 million square metres in the picturesque Al Bidda Park.
Expo 2023 will expose 3 million visitors to a multifaceted event where exceptional exhibitions, diplomatic meetings, business meetings, and public discussions are set to take place.
The forthcoming exhibition is expected to have a profound impact and leave a lasting legacy on Qatar, the wider region, and the world at large, as it places the emphasis on a mix of topics including green economies, sustainable lifestyles, education, entertainment, and innovation.
Moreover, Expo 2023 will witness a local, regional, and international campaign developed to promote the unique event and encourage the world to visit the State of Qatar for an unforgettable experience made possible through Expo 2023 Doha.
Mohammed Ali Al Khoori, Secretary General of Expo 2023 Doha, said: "As the first country in the Middle East and North Africa region to host a Horticulture Expo, we are honoured to invite the world to come together in Doha as we seek new ways to collaborate and build a better and greener tomorrow. We are pleased to be hosting this press conference and event at Expo 2020 Dubai, which offers us a unique opportunity to engage different sectors, including governmental and semi-governmental entities, NGOs, environmentalists, business corporates, and families from across the globe."
He added: "We strive to be a catalyst for change by hosting an international exhibition of this scale and providing an effective platform for dialogue on this pressing issue. We are keen to pave the way for an international exchange of innovation and technology in order to facilitate the global transformation into greener cities around the world."
At Expo 2020 Dubai, the press conference and event were held under the exhibition's theme, "Green Desert, Better Environment," a slogan that aims to engage visitors and educate them about the role innovative solutions can play in the reduction of desertification.
The wider theme includes four sub-themes that were developed to provide visitors with a unique experience that goes beyond pure information and inspires them physically, intellectually, and emotionally to be part of the change. The four sub-themes include: Modern Agriculture; Technology & Innovation; Environmental Awareness, and Sustainability.
Hosting a year of sharing, learning, and celebrating around these four main concerns, Expo 2023 Doha is a global call to gather experiences, knowledge, science, technology, efforts, and people to plant the seeds of a greener and sustainable future.
Al Khoori said: "We look forward with great enthusiasm to fulfilling the objectives laid out by Qatar's National Vision 2030 as we welcome local, regional, and international representatives, companies, and families who will come together to ensure the success of Expo 2023 Doha Horticulture (Qatar)."
In this context, Al Khoori indicated that Qatar received the official bid to host the first international horticultural exhibition in the Middle East and North Africa in November 2019, after Qatar was distinguished for its multitude of activities and effective participation in a number of international horticultural exhibitions, the last of which was the Beijing Expo in 2019 where the Qatar Pavilion was among the three largest pavilions present at the exhibition.
The objectives of the Expo 2023 Doha reflect Qatar's National Vision 2030, a roadmap for future development that aims to transform Qatar into an advanced country capable of sustaining its own development and providing a high standard of living for its population and future generations.
Providing a framework within which national strategies and implementation plans can be instated, Qatar's National Vision 2030 fosters the development of a future where people, society, economy, and environment are nurtured to achieve their potential.
Marking another milestone moment for the nation, the upcoming Expo reflects Qatar's contribution to a fast-developing region through the hosting of international events including the Doha Asian Games in 2006 and the FIFA World Cup 2022.
Expo 2023 Doha highlights Qatar's pioneering role in driving forward sustainability practices by strengthening international cooperation as it relates to environmental issues and addressing the challenge of desertification.
The fundamental mission of Expo 2023 Doha is to introduce the latest technological solutions in horticulture by driving forward shared experiences that improve the quality of life in cities across the globe. The exhibition will be held under the joint auspices of the BIE (Bureau Internationale Des Exposition) and the AIPH (The International Association of Horticultural Producers).
Nasser Al Muhannadi, General Commissioner of the Qatar Pavilion at Expo 2020 Dubai, said: "We are honoured to host the upcoming International Expo 2023 in Doha, and look forward to the promising opportunities in store. Through our participation in Expo 2020 Dubai, our aim is to host a series of initiatives that underline our vision for a more prosperous future for generations to come. In line with Expo 2020 Dubai's subthemes in Opportunity; Mobility; and Sustainability, the Expo 2023 Doha press conference and event were organised to communicate our aim to mobilise the world for the health of the planet by inspiring the global community to take decisive and collective steps toward a greener future."-- TradeArabia News Service