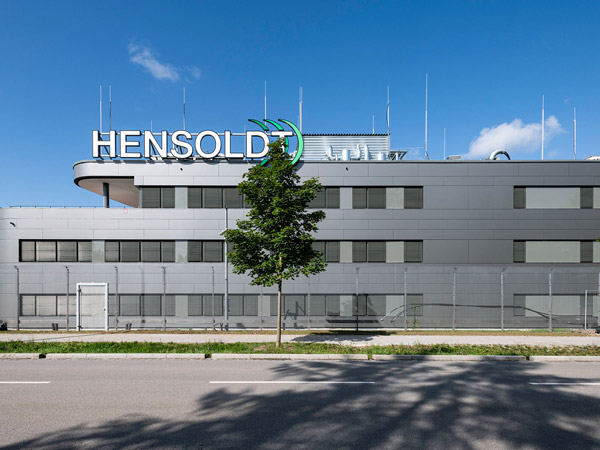 The Hensoldt facility
Hensoldt ranked first in sustainability rating
TAUFKIRCHEN, December 2, 2021
Sensor solutions provider Hensoldt has been ranked number one in the aerospace and defence industry for sustainability in an initial rating by Sustainalytics for the risk of material financial impact from ESG factors.
The rating, research and data company Sustainalytics is a Morningstar Group company. It rates companies with regard to sustainability risks that can have significant consequences for companies. Criteria analysed include respect for human rights and "supply chain management as well as environmental and climate change risks.
Specifically, the company achieved an ESG ((environment, social, governance)) Risk Rating of 18.1 points in the assessment of the current 2021 business year according to Sustainalytics' ESG assessment scheme, which runs up to 100 points, and is thus the only company in the branch to fall into the "Low Risk" category (10-20 points). In numerous categories - including "Product Governance", "Human Capital", "Bribery & Corruption" and "Occupational Health & Safety" - Hensoldt even achieved a score below 10, which corresponds to a rating of "negligible risk".
"It makes us very proud to have achieved such a great result. This rating confirms our decision to make ESG a strategic priority," said Thomas Müller, Chairman and CEO of Hensoldt. "We will continue to increase our focus on sustainability and further advance topics such as the further development of hydrogen technologies and the reduction of our carbon footprint."
Hensoldt takes its responsibility in its role as a global citizen and sustainable company very seriously and has set itself the goal of pioneering technologies and human potential that promote the protection of all species worldwide.
At the same time, its activities serve the higher purpose of securing the freedom and future of the planet, the nature and people's lives. Social commitment is one of the company's central ethical priorities and supporting the project is thus a matter of great concern to it.-- TradeArabia News Service