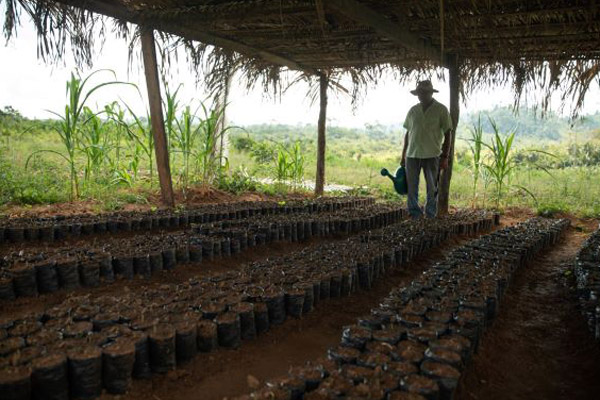 Saplings kept for the plantation drive
Seara announces a plantation drive at Dubai Expo 2020
DUBAI, December 2, 2021
Amazon Week at the Brazilian Pavilion at Expo 2020 offers visitors the exciting opportunity to digitally plant and adopt 20,000 trees across the Amazon rainforest and the UAE.
Seara Alimentos, a major Brazilian food company part the leading protein company worldwide and second largest global player in food industry, has invited visitors to participate in the initiative from December 1 to 7, 2021.
Seara offers an immersive experience that gives visitors a glimpse into the world's largest tropical rainforest.
The initiative in the Amazon will be driven through digital sign-ups at the event and implemented through JBS' partnership with Solidaridad, an international civil society organisation. Additionally, the Emirates Environmental Group will lead the local initiative in the UAE by inviting 500 participants to join a tree plantation drive in the UAE.
The 'Amazon Week' initiative drives sustainability across nations. Being part of this plantation drive gives visitors the chance to make big changes not only in their own country but also across the globe and in the rainforests. The 'Amazon Week' will also pay tribute to the people of the UAE in celebration of 50 years of sustainability.
"Amazon is the largest tropical forest in the world and has a significant effect on the global climate. We are committed to global sustainability as part of a comprehensive ESG strategy which is part of our business globally," says Joanita Maestri Karoleski, president of JBS Fund for Amazon.
With its strong presence in more than 150 countries such as UAE, Saudi Arabia, Kuwait, Egypt, Qatar, Oman, Bahrain, China, France, England, Germany, Japan, Latin America and the US, Seara has the commitment to sustainability and the mission to feed the world in equilibrium with the planet.-- TradeArabia News Service