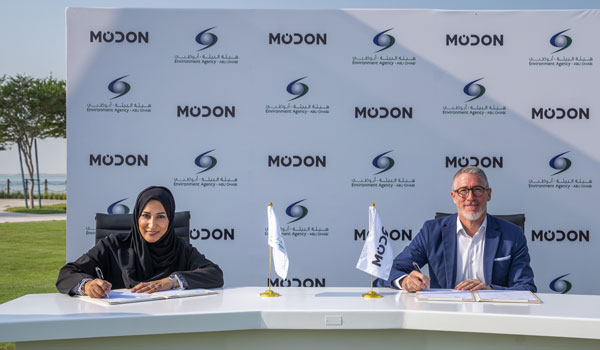 Dr Shaikha Salem and O'Regan sign the MoU
EAD, Modon sign MoU to team up on environmental issues
ABU DHABI, November 23, 2022
The Environment Agency – Abu Dhabi (EAD) and Modon have signed a Memorandum of Understanding (MoU) to collaborate on environmental initiatives to reduce air pollution, protect wildlife, marine life and natural resources.
This is in addition to developing programmes that ensure a safe and healthy environment and enhance Abu Dhabi's efforts to achieve the goals of the UAE 2050 Climate Neutrality Strategic Initiative.
The MoU signing coincided with the 27th Conference of Parties of United Nations Framework Convention on Climate Change (UNFCCC), also known as COP27.
The MoU was signed by Dr Shaikha Salem Al Dhaheri, Secretary General of EAD and Bill O'Regan, CEO of Modon, at Hudayriyat island in Abu Dhabi.
Constructive cooperation
The MoU stems from the mutual desire of the two parties for constructive cooperation to achieve goals, policies, plans and strategic programmes, and with a special focus on cooperation for sustainable development and climate neutrality. In addition, the two organisations will exchange knowledge and experiences, and propose appropriate solutions to various environmental challenges via pioneering and innovative environmental initiatives and study their success.
Dr Shaikha Salem said: ''By signing the MoU with Modon, we seek to develop and strengthen partnerships so we can build bridges of communication and cooperation between the government and private sector. These sectors include agencies and institutions related to the protection of the environment and natural resources in the Emirate of Abu Dhabi, which will strengthen the sector's developmental and societal role."
She added: "One of the objectives of the MoU is to strengthen the principle of environmental partnership, through which EAD seeks to share the responsibility and development with other sectors and entities in the emirate. The UAE seeks to achieve its strategic goals not only by enacting laws and legislation, but by establishing strategic partnerships with relevant authorities to protect the environment, promote economic growth and enhance the quality of life for Abu Dhabi residents."
Biological diversity
O'Regan said: "The signing of the MOU comes in line with Modon's mandate to preserve the exceptional biological diversity, environmental infrastructure and the wildlife that Abu Dhabi enjoys. We are pleased to work closely with EAD on implementing the environmental policies and procedures Modon applies on its projects particularly in the Al Dhafra Region, home to number of our ecotourism and entertainment projects."
"Caring for the environment is at the core of our business plans which aim to encourage sports tourism and ecotourism, a blend that attracts enthusiasts in both topics and contributes to furthering sustainably develop target areas," he said.
"We are working closely with our environment experts on raising the awareness of our visitors and providing them with kits and instructions that helps them to understand and appreciate the surrounding environment, and to learn and connect with it. This is of course coupled with a set of strict policies that prioritise the environmental procedures that are tailored for each destination according to its needs."
According to the MoU, the two parties will participate in the preparation and implementation of programmes that will improve the quality of the environment in Abu Dhabi. In addition, both organisations will promote educational activities to spread awareness about the importance of preserving the environment and wildlife and develop media plans to showcase the projects and present their achievements and benefits to a range of audiences.-- TradeArabia News Service