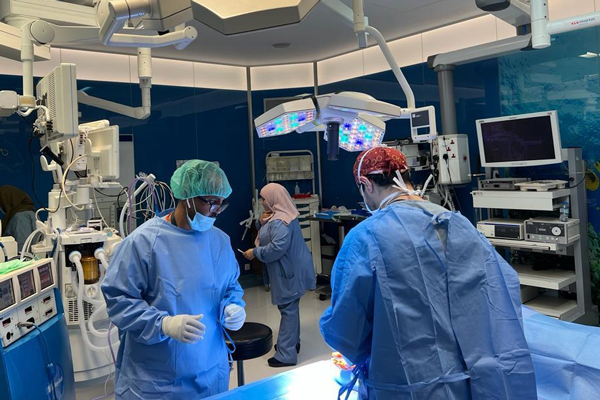 The surgery in progress
Teenager with cracked forehead healed by 3D surgical technique
RIYADH, January 24, 2023
Oral and Maxillofacial Surgeons at King Abdullah Medical City in Makkah have successfully completed a surgical intervention using the 3D surgical planning technique to repair deformities and fractures in the forehead bone of a teenager.
The patient, who suffered severe head injury from a traffic accident seven years ago that led to a fracture in the forehead bone and the upper right eye socket, was operated on for about three hours by the surgeons, Makkah Health cluster said.
After conducting clinical and radiological examinations, it was revealed that there was a double fracture in the forehead bone and the upper right eye socket, which was not fixed at the time due to the difficulty of the case. This necessitated that the patient undergoes a delicate restoration process, in which 3d printed fragments were used.
Recovery process
The patient was transferred after the operation to the inpatient department to complete the recovery stages with the nursing teams, and he is in good health.
The new technology requires taking CT scan images, converting them into three-dimensional diagrams, and then printing and installing them in the affected area so that the operation can be performed on the printed cast before performing it on the patient.
Similar cases in the past required the withdrawal of a bone graft from the patient's body, which led to multiple complications, in addition to increasing the duration of the operation to 6 hours, with a recovery period of several weeks.-- TradeArabia News Service