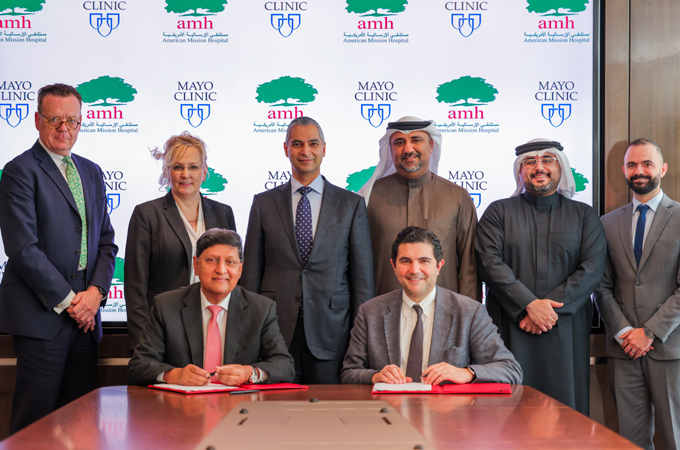 AMH Bahrain signs deal with Mayo Clinic
MANAMA, February 5, 2023
Bahrain's American Mission Hospital (AMH) has signed a first-phase deal with the world's number one healthcare facility, Mayo Clinic, US, to align its development strategy alongside Mayo' s Patient First Always strategy.
The strategy aims to develop quality, leadership and governance on the road to become an affiliate Mayo partner in Bahrain.
AMH's new King Hamad American Mission Hospital (KHAMH) will be the focus of this partnership that has evolved from a 120-year history of service to the people of Bahrain, said AMH.
The partnership with Mayo was facilitated by Bahrain's Economic Development Board and the anticipated three phases towards becoming an affiliate partner are set to be completed in the next six months.
Under the agreement, AMH and Mayo Clinic will share medical technology and expertise, including visits by top doctors from the US to Bahrain to spearhead the introduction of new initiatives and the start of new specialised departments at the KHAMH. They will also collaborate on education, practice and research.
In addition, AMH patients are expected to be able to consult doctors at Mayo Clinic remotely, under the framework of the partnership.
The new 125-bed KHAMH was inaugurated on behalf of His Majesty King Hamad bin Isa Al Khalifa by His Royal Highness Prince Salman bin Hamad Al Khalifa, the Crown Prince and Prime Minister, on January 26.
"It is a futuristic smart hospital, that is technology-enabled to create a holistic healing environment that extends beyond the four walls of the hospital," said Dr George Cheriyan, the Corporate CEO and Chief Medical Officer, while announcing the opening.
"KHAMH is built on the concept of the future of health with the idea of wellness and preservation of health. The designs incorporate the natural elements of light and greenery that enhance human senses and bring them close to the environment to facilitate healing through compassionate care on the human side, and also to give a well-informed digitized patient experience," he said.
In March 2023, the hospital would become operational. The hospital offers primary to tertiary care with one wing dedicated to women and children, and another one dedicated to the medical and surgical specialties.
"Its state-of-the-art, hybrid, modular operating rooms with intensive care units, day surgical units, a dialysis unit of 20 beds, laboratory and imaging Center are equipped to help patients who seek urgent, accident and emergency care" says Dr Cheriyan.
Collaboration with RCSI, the Royal College of Surgeons in Ireland, in Bahrain, makes this a teaching hospital, with all facilities, including clinical training labs, simulation rooms, library and an auditorium.
Collaboration with Sheba Medical Centre of Israel makes the hospital an innovation hub, which will bring to Bahrain world-class medical research and technology to enable young Bahraini entrepreneurs to take advantage of the opportunities in healthcare innovation.
There is a high level of digitisation and automation in the new hospital with the use of AGVs or Automated Guided Vehicles, which are robots which help in the movement of most material on the back-end, such as food and beverage, laundry, waste management, etc. A few other robots and medbots will also help in making the hospital services more efficient.
It is also an eco-friendly hospital with ESG initiatives embedded into its operational strategy. Solar panels, which are installed on both five-storey buildings - the hospital building and the accommodation building for staff - are expected to generate nearly 60% of its electricity.
"KHAMH is more than a hospital", says Dr George Cheriyan. "It is a part of a larger healthcare eco-system that will attract worldwide talent which will contribute substantially to Bahrain's overall healthcare strategy in the years to come," he said. - TradeArabia News Service ​