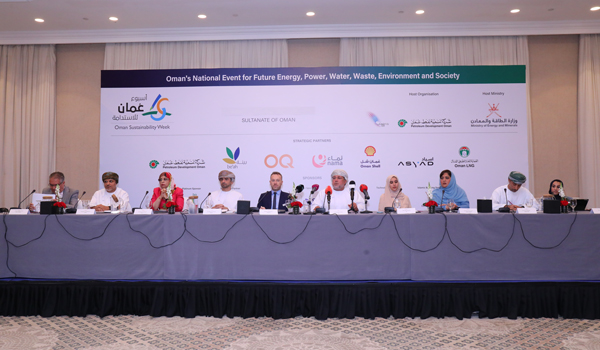 The press conference in progress
Oman Sustainability Week 2023 to press forward green agenda
MUSCAT, February 27, 2023
Upholding sustainability as one of the critical pillars of progress, Oman has been at the forefront of spearheading initiatives that advocate economic growth, social inclusion and the protection of the country's environment.
In line with the same, the Oman Sustainability Week (OSW) 2023, a national-level event hosted by the Ministry of Energy and Minerals (MEM) with Petroleum Development Oman (PDO) as the Host Organiser, is set to take place from March 12 to 16, it was announced at a press conference.
The event dedicated to enhancing the future of energy, power, water, waste and environment and society is strongly aligned with Oman Vision 2040 and further reiterates the country's commitment to the United Nations Sustainable Development Goals (UNSDGs). Bringing together policymakers, sustainability experts and industry leaders, OSW seeks to engage influential national development stakeholders and position Oman as a country that implements sustainable practices in every sector.
Harmony with nature
"With humanity making stellar advancements in technology, driving rapid developments in every key sector, it has become even more critical that we take concerted efforts to implement transformational processes in everyday practices so we can operate in harmony with nature. Every action aimed at promoting sustainability, however small or large, if steered in the right direction, has the potential to have a significant global impact that will contribute towards protecting communities and preserving the environmental ecosystem," said Dr Ali Al Rajhi, Director General for Planning and Studies, Ministry of Energy and Minerals and OSW Steering Committee Chair.
"OSW seeks to be that very platform that advocates sustainability by facilitating meaningful dialogues between leaders who have the capacity to lead change, promoting the cross-sharing of technical expertise and resources and encouraging a business and community-wide shift towards adopting a sustainable lifestyle. Large-scale events like OSW give the needed impetus, guidance and support to key industries, helping them to accelerate their sustainability drive and achieve net zero carbon emissions in line with Oman Vision 2040. It also reaffirms Oman's commitment to transitioning to a green, circular economy."
Taking a holistic approach to the promotion of sustainability through the diversification of the economy, OSW will include a series of activities that foster knowledge sharing through high-level discussions with leading experts and educational programmes.
The International Sustainability Resources & Technology Conference (ISRTC) organised by the Oman Environmental Service Holding Company S.A.O.C, be'ah, and programmed by Economist Impact, will take place from March 13 to 14 at OCEC. The C-level thought leadership Gaia Summit organised by the Society of Petroleum Engineers (SPE) will be held from March 15 to 16.
OSW Talks
A key highlight of the event is the Oman Sustainability Week Talks slated to be held from March 13 to 15. A free-to-attend, open panel forum, it will present invaluable insights into pioneering products and innovative solutions while inspiring attendees to embrace best practices in sustainability.
As part of OSW Talks, Oman Shell will also host the Shell NXplorer Programme on March 15 showcasing 10 innovative projects created by students from 10 schools in Oman. In addition, Oman Shell will also be sharing insights from its Shell Nawafidh programme on March 14.
The OSW Exhibition will take place from March 13 to 15 March in Hall 1 of the Oman Convention and Exhibition Centre (OCEC), which expects to see over 80 exhibitors and 7,000 attendees alongside more than 100 expert speakers and 450 conference delegates.
Meanwhile, the Oman Sustainability Site Visits programme is scheduled for March 16 and will offer attendees an opportunity to visit, experience, and learn from a number of active projects that have been leading sustainable development in Oman.
OSW Awards
To acknowledge, recognise and felicitate businesses, corporates and individuals who have played a pioneering role in driving sustainability in Oman, the week will kick off with the OSW Awards which will take place on March 12 at OCEC and expects to welcome over 260 attendees from various facets of the economy.
Apart from sharing knowledge, OSW will inculcate industry best practices in sustainability and highlight the various lucrative investment opportunities prevalent in Oman's market. It will also offer a chance for businesses to promote their products, services, technologies and equipment as well as engage directly with local and international investors. As the nation's leading event for sustainability, OSW seeks to align, centralise and benchmark all elements of the sustainability landscape in energy, power, water, waste, and environment.
Assuming the role of Strategic Partners at the event will be ASYAD, be'ah, Nama Group, Oman LNG, Petroleum Development Oman (PDO) and Shell Oman. Extending its support as the Platinum Sponsor will be bp Oman alongside Averda, SLB and Sohar Aluminium as the Silver Sponsors. Omantel will be the Technology Partner at the event, whereas National Energy Centre will be the Smart City Partner.-- TradeArabia News Service