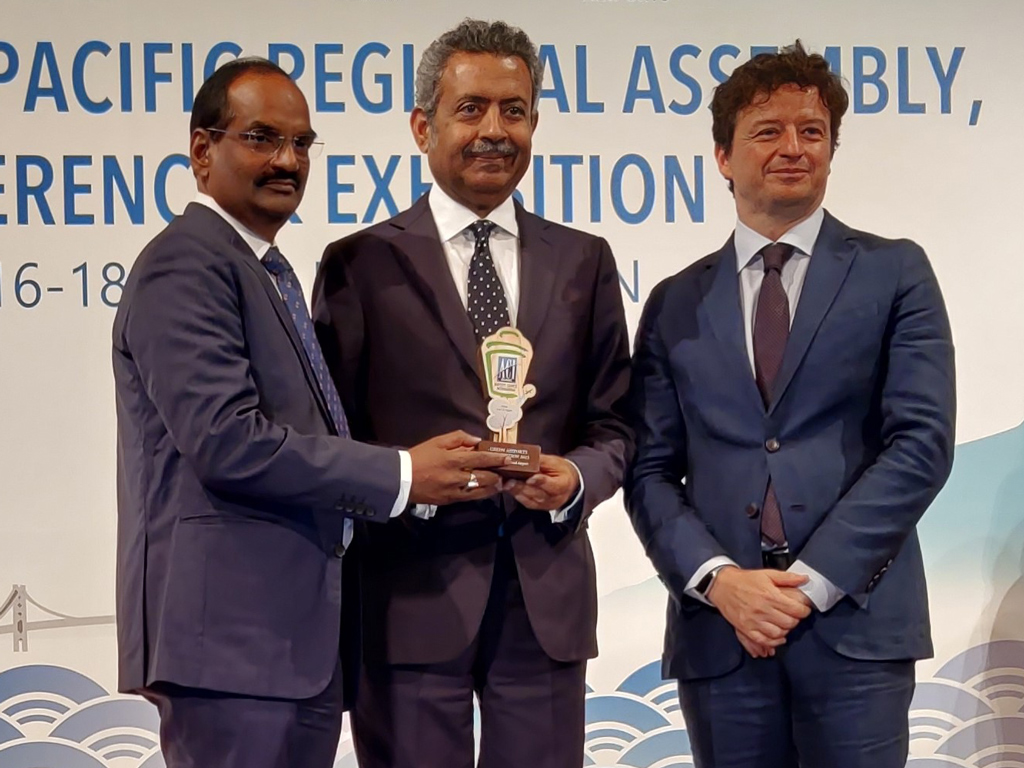 BAC CEO with the award
Bahrain International Airport recognised at ACI Awards
MANAMA, May 18, 2023
Bahrain International Airport (BIA) has been honoured with the Green Airports Recognition 2023 Silver Award, for airports serving 8 to 15 million passengers annually. BIA also won a certificate marking its upgrade to Level 4 'Transformation' of the Airports Council International (ACI) Airport Carbon Accreditation programme.
Bahrain Airport Company (BAC) Chief Executive Officer Mohamed Yousif Al Binfalah accepted the two prestigious sustainability awards on behalf of BIA at the 18th ACI Asia-Pacific Regional Assembly, Conference & Exhibition in Japan, which was held for the first time in three years following the pandemic.
The Green Airports Recognition initiative promotes environmental best practices and acknowledges ACI Asia-Pacific airport members with outstanding accomplishments in their environmental projects.
Single-use plastic
Each year, a different environmental aspect is chosen as the theme. This year's was 'elimination of single-use plastic'.
Al Binfalah said: "In line with our commitment to sustainability, BAC initiated a Plastic Waste Management Project in 2020, in coordination with airport stakeholders, to monitor and divert plastic waste from landfills. The project has seen 3,400 kg of materials diverted from landfills annually and the recycling of 137,600 kg of materials each year. Moreover, we have established a centralised dashboard to monitor plastic waste streams at BIA. We are currently working on further improvements, including substituting single-use plastics with re-usable items, and encouraging recycling within stakeholders' operations."
Commenting on the ACI Carbon Accreditation, Al Binfalah added: "This achievement marks another important step in our journey to become a carbon-neutral airport. It also reflects the dedication of the BAC Health, Safety, and Environment (HSE) team and the valued support of our airport partners. Working together, we remain committed to further reducing BIA's carbon footprint. Achieving the global air transport sector's goal of reaching net-zero carbon emissions by 2050 requires careful coordination among the entire industry, including airports. BAC is proud to support this global initiative and raise awareness about the importance of protecting the environment."-- TradeArabia News Service