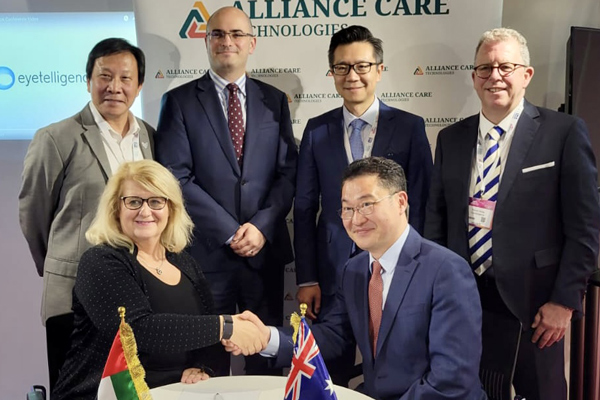 Signing the agreement
Accord signed to bring AI solutions in ophthalmology to UAE
DUBAI, May 25, 2023
Australian-based Eyetelligence, a developer of decision-making support software, and UAE's Alliance Care Technologies (ACT) have announced a strategic partnership to bring transformational AI Ophthalmology solutions to the UAE market.
The Preferred Partnership agreement signed at Precision Med Expo will provide stand-alone and hospital-based clinics with Glaucoma detection support, Referable Diabetic Retinopathy screening support with grading, and screening support for neovascular age-related macular degeneration (nAMD).
The signing ceremony was held in the Alliance Care Technologies booth at Precision Med Expo in Dubai, witnessed by Mounir Sankary, Australian Deputy Consul General for Dubai. Attendees representing Eyetelligence included Founder Prof Mingguang He, MD PhD; CEO Rainer Grote, and Chief Strategy Officer Jason Sun.
Alliance Care Technologies is represented by Founder and CEO Michele Tarnow, and Chief Medical Officer Dr Aaron Han, MD, PhD.
Advanced technology
The Eyetelligence team introduced this advanced technology to the UAE market at Precision Med Summit. The launch included an in-person presentation by Mingguang (Ming) He, MD, PhD, Professor of Ophthalmic Epidemiology, Melbourne Medical School, Faculty of Medicine, Dentistry and Health Sciences, University of Melbourne; Head of Ophthalmic Epidemiology, Centre for Eye Research Australia.
Prof Ming is a global expert in the clinical adoption of artificial intelligence in medicine and is the founder of two Australian-based international MedTech companies, Eyetelligence and Eyerising, which bring to market Dr Ming's AI technology and light therapy technology.
Prof Ming said: "AI has evolved from computer software in the laboratory to clinical adaptation in many image-driven practices, including ophthalmology. Enabled by a combination of the availability of large datasets and substantially improved computing power, deep learning algorithms (DLAs) have created unprecedented opportunities for substantially improved accuracy in automated detection and diagnosis of eye diseases.
Human input
"This development will make eye care less dependent on human input and therefore would improve accessibility, efficiency, and cost-effectiveness, making ocular disease diagnosis and management quicker, cheaper and more consistent."
Eyetelligence Assure is an advanced AI software solution that analyses retinal images for features of the three major blinding eye diseases: glaucoma, referable diabetic retinopathy and referrable neovascular age-related macular degeneration.
Backed by peer-reviewed publications and journals, Eyetelligence's deep learning technology is designed to empower clinicians to make more informed clinical decisions with speed, accuracy, and confidence to ensure the best health outcomes for their patients. Also available is Eyetelligence Microvascular, a non-invasive platform to detect early signs of cardiovascular disease based on a microvascular profile. Eyerising brings to market Eyerising Myproclear, which controls the progression of childhood Myopia with the world's first non-invasive, at-home device for Myopia control.
Strong demand
"We anticipate strong demand for this technology across the region" says Michele Tarnow, CEO Alliance Care Technologies. "Our partnerships with both Eyetelligence and Eyerising in the Gulf Region will provide stand-alone and hospital-based clinics with Glaucoma detection support, Referable Diabetic Retinopathy screening support with grading, and screening support for neovascular age-related macular degeneration (nAMD). We are delighted Prof Ming is available to share his expertise and advanced technology solutions in person."
Mounir Sankary, Deputy Consul-General Dubai and Trade Commissioner at Austrade, said: "We at the Australian Trade and Investment Commission (Austrade) are pleased to see the partnership agreement between Eyetelligence and Alliance Care Technologies that will leverage advanced AI capabilities for quality preventative health measures for the people of UAE. These are exactly the sort of partnerships we love to see - a sharing of passion and expertise between Australia and the UAE with a spotlight on innovation and reducing the burden of ill health on the community."
Prof Ming and members of the Eyetelligence and Alliance Care Technologies' teams demonstrated the groundbreaking technology at the ACT booth throughout the Precision Med Expo conference.-- TradeArabia News Service