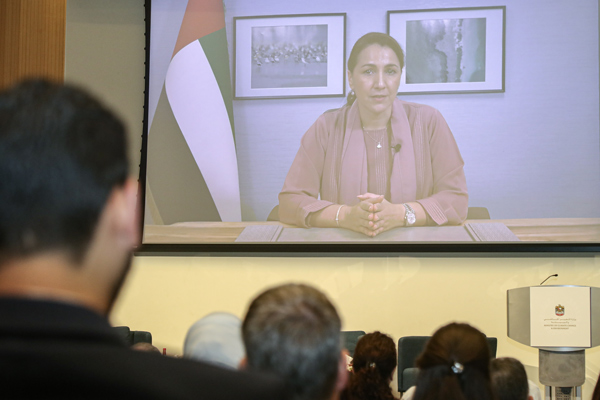 Mariam Almheiri
CCRN focuses on climate action ahead of COP28
ABU DHABI, May 25, 2023
The 2nd annual Climate Change Research Network (CCRN) Conference focuses on the UAE's commitment to climate action and sustainability, as well as creating an interactive space for scholars, researchers and non-state actors.
Held at New York University Abu Dhabi (NYUAD) on May 25 and 26, the conference is held within the context of the UAE's Year of Sustainability and as part of the country's preparations to host the 28th Conference of Parties (COP28). It serves to reinforce the UAE's broader commitment to the global sustainable development agenda and climate action. Collectively, these initiatives underscore the country's relentless efforts to create a sustainable and resilient environment for its people and to actively contribute to international efforts to mitigate the effects of climate change.
High-level attendees included Sheikha Shamma bint Sultan bin Khalifa Al Nahyan, President & Chief Executive Officer of UAE Independent Climate Change Accelerators (UICCA), Mariet Westermann, Vice Chancellor of NYU Abu Dhabi, and representatives from the Intergovernmental Panel on Climate Change (IPCC), UNFCCC, and the Global Centre on Adaptation. The King Abdullah Petroleum Studies and Research Centre (KAPSARC) also had representatives at the conference.
Lasting impact
Sheikha Shamma commented: "As we work collectively to create lasting impact, events such as the UAE Climate Change Research Network Conference demonstrate the value of participation, action and education. Moreso, it demonstrates the incredible potential of human spirit, in taking our own individual passions and specialties, and the potential of what happens when we direct those efforts towards a shared goal. These contributions are nothing less than admirable and a declaration of the commitments and responsibility those here today have taken towards a sustainable future."
In her recorded keynote address to the attendees, UAE Minister of Climate Change and Environment, Mariam Almheiri, emphasised the conference's crucial role in fostering a collaborative environment and stressed the significance of science and innovation in combating the immediate threat of climate change.
Almheiri said: "The core mission of the Climate Change Research Network is to drive research and innovation in climate science. Our scientists and researchers are undertaking remarkable work that contributes significantly to global climate action. We're dedicated to bridging the knowledge gap, fostering collaboration, and making scientific breakthroughs accessible to policymakers and communities."
Specialised clusters
The CCRN conference structured discussions around five specialised clusters: Climate Data & Modelling, Climate Change & Infrastructure, Climate Change & Terrestrial, Marine & Freshwater Ecosystems, Climate Change & Public Health, and Climate Change & Food & Water Security.
A significant development was the launch of two new CCRN divisions: the Youth Division and the Advisory Committee. The Youth Division provides a platform for the youth to engage and support in climate research efforts across the spectrum, while the Advisory Committee provides a more intricate professional perspective to the climate efforts being explored as part of the adaptive exercises. These efforts aim to broaden the scope of research, inspire younger generations to contribute to climate change solutions and enable policy formulation based on leading scientific insights.
The conference was also an opportunity to reflect on the UAE's progress in climate action, such as becoming the first Middle Eastern country to sign the Paris Agreement and deliver its Nationally Determined Contributions and Adaptation (NDCA).
Ambitious goals
As part of this commitment, the UAE has set ambitious goals for reducing greenhouse gas emissions from 23.5% to 31% under a business-as-usual scenario by 2030. These actions underline the nation's dedication to curbing global warming and creating a sustainable future for its people and the planet.
Beyond its commitment to fostering a vibrant academic and research community in the UAE, the MOCCAE is also gearing up to showcase its efforts in climate action and sustainable development globally. The UAE is set to host the 28th UN Climate Change Conference of the Parties (COP28) later this year, and the event is expected to bring together 80,000 delegates, including 140 heads of state and government, from around the world to strategise and collaborate on the path to a sustainable future.
Almheiri said: "As we prepare to host the international community at COP28 in Expo City Dubai later this year, our focus remains on catalysing global climate action – and ensuring COP for All, leaving no one achieve a COP for All that leaves no one behind. Our intention is to showcase the progress we have made in addressing the impact of climate change across the entire value chain – from food systems to clean energy and biodiversity.
"Moreover, we seek to galvanise further action on a global scale, for no country can tackle climate change in isolation. It is a collective responsibility that binds us as individuals and members of the global community."
The second Annual CCRN Conference, the forthcoming COP28, and the Year of Sustainability are all part of the UAE's broader commitment to the global agenda for sustainable development and climate action. These initiatives collectively underline the nation's dedication to creating a sustainable and resilient environment for its people and contributing effectively to international efforts to mitigate the impacts of climate change.-- TradeArabia News Service