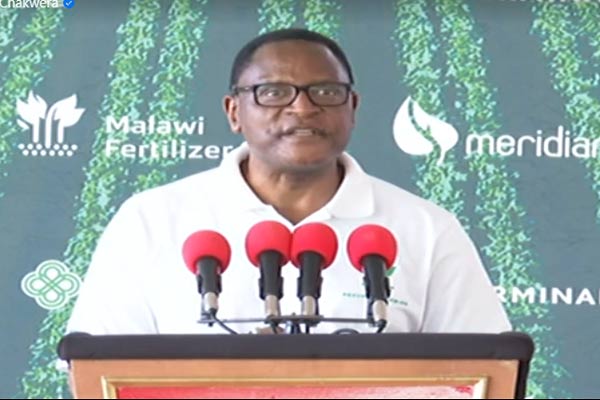 Malawi President Lazarus McCarthy Chakwera
speaks at the inauguration
Ma'aden opens fertilizer terminal in Malawi
RIYADH, 11 days ago
Saudi Arabian Mining Company (Ma'aden) and its African subsidiary Meridian Group in Malawi have achieved a milestone with the opening of a world-class fertilizer terminal in Liwonde.
The inauguration was attended by President of Malawi, along with several dignitaries including the Malawian Minister of Finance, Minister of Agriculture, Irrigation and Water Development, and other members of parliament.
Ma'aden was commended for its investment in the development of the economy of Malawi through the contribution to the establishment of the new fertilizer terminal.
The project has been headed by the Senior Vice President of the phosphate business unit, Eng. Hassan Al-Ali.
The Liwonde Terminal, is strategically located on the rail line connecting the Republic of Malawi to the deep-sea port of Nacala in the Republic of Zambia, allowing for access to Ma'aden's fertilizer products across central and southern Africa.
The state-of-the-art terminal is equipped with a 15,000 sq m under-roof facility, a 40,000 metric ton (MT) storage capacity, a 2,400 MT per day blending capacity, an annual bagging capacity of 10 million, and a total production capacity of 360,000 MT per year.
The terminal is powered by cutting edge technology, including a cloud-based logistics supply chain management system and an advanced on-site laboratory for rapid and accurate fertilizer testing. The Terminal also uses sustainable and renewable energy solutions to reduce CO2 emissions.
The Liwonde Fertilizer Terminal is expected to contribute to the growth of Ma'aden's exports to Africa as it will provide access to a steady supply of high-quality fertilizer to over 5 million small-hold farmers in the Republics of Malawi and Zambia, and subsequently, improve food security on the African continent.
The terminal will cement Ma'aden's strategic position in one of the world's fastest growing agricultural regions and complement its strategic initiatives in Africa, which include Ma'aden's acquisition of Meridian Group in 2019, said the statement.
Ma'aden will continue to focus on enhancing its operations and capitalising on its capabilities to serve the global phosphate market with value-oriented, globally diversified, and resilient agribusiness products, it said.
Ma'aden's mine-to-market fertilizer business consists of three mega production plants in Saudi Arabia: Wa'ad Al Shamal Industrial Minerals City in the North, another at Ras Al Khair Industrial City on the East coast, which is a phosphate and bauxite processing super-hub; and the Phosphate 3 expansion, which will add over 1 million tonnes ammonia production -- to reach 3.3 million tonnes -- and 3 million tonnes of different fertilizer production capacity, to achieve a total production capacity of more than 9 million tonnes per year.
In record time, Ma'aden has become the third pillar of Saudi industry and the leading multi-commodity company for the development of the Saudi mining and minerals industry, and among the 15 largest global mining companies. Ma'aden is a key driver of Saudi Arabia's position as one of the top three global producers and exporters of fertilizers and a key player in the stability of global food security, the statement added. - TradeArabia News Service