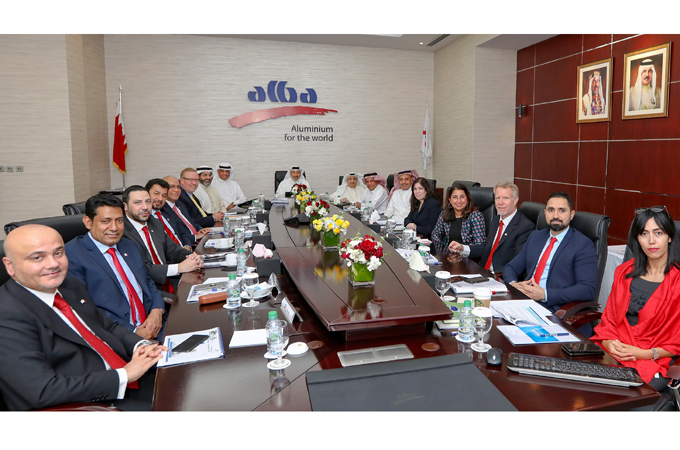 Alba must go beyond what has been achieved: Chairman
MANAMA, September 28, 2022
"To grow further, we must do something beyond of what we have already mastered" - that was the message of Aluminium Bahrain (Alba) Chairman Shaikh Daij Bin Salman Bin Daij Al Khalifa at a Board of Directors' meeting of the company.
Alba, one of the world's largest aluminium smelters, held its third quarterly Board of Directors' meeting at the Al Dana Hall on Wednesday (September 28).
Shaikh Daij started the meeting by thanking Alba executives, management, employees, and contractors' personnel for the exceptional safety record of the company, with Alba setting a precedent in its safety performance with more than 31 million safe working hours without LTI.
Adding further, he said: "To further grow, we must do something beyond of what we have already mastered. With the first concrete pour at Power Station 5 Block 4, we advance closer to meet our ESG objectives. As we step in the last quarter of this year, we remain focused to embrace the challenges we see in today's market as opportunities to finish 2022 strong."
During this meeting, the Board of Directors discussed and approved the minutes of the previous meeting on August 11, 2022 as well as reviewed reports of the Executive and ESG Committee, Board Audit Committee and the Nomination, Remuneration and Corporate Governance Committee.
The Board also reviewed the company's ESG developments to include the debut of Power Station 5 (PS5) Block 4's construction project, which will bring Alba one step closer in its race towards decarbonisation in terms of higher efficiency and lower greenhouse gas (GHG) emissions.
Moreover, the board was apprised of the successful closure of the financing with Sinosure Export Credit Agency in relation to this project.
Along with the Chairman of the Board, Shaikh Daij, the Alba Board of Directors comprises six directors appointed by Bahrain Mumtalakat Holding Company – Yousif A Taqi, Suha Karzoon, Shaikh Isa Bin Khalid Al Khalifa, Tim Murray and Rasha Sabkar. The three directors appointed by Sabic Industrial Investments Co (SIIC) are Ahmed Alduriaan, Iyad Al-Garawi and Omar A Al-Amoudi and one elected director is Mutlaq Hamad Al-Morished. -TradeArabia News Service