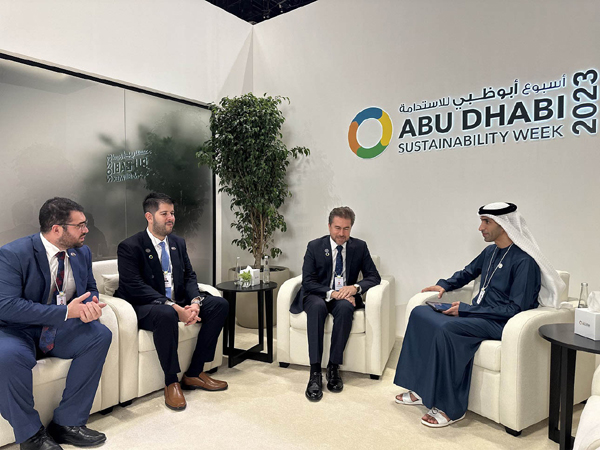 Importance of sustainable trade stressed at ADSW
Abu Dhabi, UAE, January 18, 2023
The importance of placing sustainability at the forefront of economic and policy agendas was highlighted by Dr Thani bin Ahmed Al Zeyoudi, UAE Minister of State for Foreign Trade during keynote speeches and ministerial meetings at Abu Dhabi Sustainability Week (ADSW).
During his visit to ADSW, Dr Al Zeyoudi was the keynote speaker for the Youth4Sustainability Forum. In his speech, he aimed to inspire the next generation of sustainability leaders to innovate new clean energy solutions to help shape the future of the UAE.
Dr Al Zeyoudi was also the keynote speaker for the Arctic Circle Abu Dhabi Forum, outlining the UAE's continued support for knowledge-sharing, research and collaborative policy-making to climate-mitigation efforts in the Himalayan region.
He said Abu Dhabi Sustainability Week is a key event to promote research and knowledge sharing around balancing economic growth with environmental action.
"While the UAE is reinforcing our status as a global trade hub, it is imperative that we continue our growth in a sustainable manner to align with our nation's development goals. We recognize the need to achieve sustainable development and develop integrated measures to fulfil economic, social and environmental objectives. The Ministry's participation at Abu Dhabi Sustainability Week affirms our commitment to focusing its efforts to effectively implement its sustainable development strategies by leveraging all possible mechanisms to make sure that our policies are met."
On the sidelines of Abu Dhabi Sustainability Week, Dr Al Zeyoudi conducted ministerial meetings with Lee Young, South Korea Minister of SME & Startups, Sarah Ryglewski, Member of the German Bundestag, Minister of State to the Federal Chancellor, Luis Alberto Castiglioni, Minister of Industry and Commerce of the Republic of Paraguay, Ville Skinnari, Minister of Development and Foreign Trade, Finland and former President Olafur Grimson accompanied by Benedikt Gíslason, CEO of Iceland Arion Bank, and Hugh Short, Pt Capital in Alaska.
The meetings discussed how the UAE can grow its non-oil trade with the nations for the remainder of 2023 and the years to come. UAE's non-oil trade with South Korea totaled $4 billion in the first nine months of 2022, growing by 19% compared to the same period in 2021. Germany is the UAE's second largest EU trade partner with a share of 17%, with non-oil trade reaching $7 billion in the first nine months of 2022. Non-oil trade between the UAE and Paraguay grew by 57% for the first nine months of 2022 from $26.2 million to $41 million. The UAE and Iceland's non-oil trade reached $1.8 million during the first nine months of 2022.
Abu Dhabi Sustainability Week took place under the theme 'United on Climate Action Toward Cop28' bringing together global communities for a series of impactful dialogues on the transition towards a net-zero future.--TradeArabia News Service