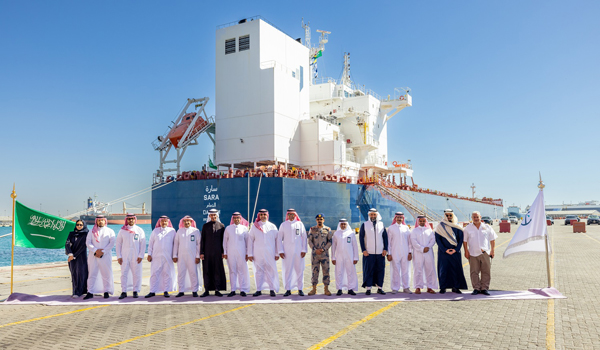 Officials receive the tanker carrying barley
Bahri tanker brings 60,000 tonnes of barley from Australia
JEDDAH, February 5, 2023
The National Shipping Company of Saudi Arabia Bahri's tanker 'Sara' has arrived at the Jeddah Islamic Port with 60,000 tonnes of barley as the government and private sectors cooperate in Saudi Arabia to ensure food security.
The tanker has come from the Australian port of Bunbury after the Agricultural Development Fund financed the supply contract concluded between Mansour Al-Mosaid Company and the Saudi Agricultural and Livestock Investment Company (Salic).
Bahri CEO Eng Ahmed bin Ali Al-Subaey said: "Providing staple grains such as barley, wheat and corn to Saudi Arabia is one of our greatest accomplishments as part of the supply chain. The modern tanker carrier Sara is one of the several ships added to Bahri's cargo fleet to meet the needs of customers in the kingdom and the region as well as Saudi companies seeking to import these important commodities. This will contribute to enhancing food security, one of the main objectives of Saudi Vision 2030."
Key milestone
Salic Group CEO Eng Sulaiman bin Abdulrahman Al-Rumaih said: "This is an important milestone in local food security since efforts have been integrated between three national companies as per Vision 2030 objectives."
According to Al-Rumaih, Salic, through its global investments, contributed to achieving the national food security goals by receiving over 1.3 million tonnes of commodities and products in the kingdom during the year 2022.
Munir Bin Fahd Al-Sahli, General Manager of the Agricultural Development Fund, said: "The funding comes as part of its efforts to support and develop the agricultural sector, strengthen and stabilise the food security system, contribute to boosting supply chains, and compensate for any shortages which may occur."
Ahmed bin Mansour Al-Sudairy, Chairman of Mansour Al-Mosaid Company, said: "Over the past forty years, Mansour Al-Mosaid Company has played a key role in importing and trading barley in Saudi Arabia, and we are delighted to cooperate with two of the kingdom's largest companies."-- TradeArabia News Service