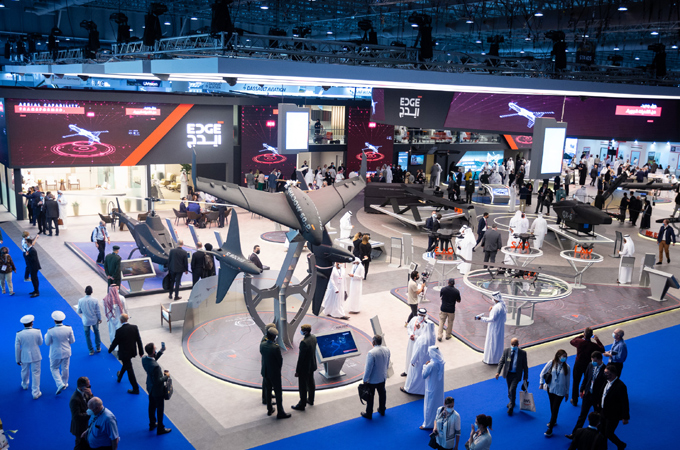 EDGE to launch advanced defence solutions at IDEX 2023
ABU DHABI, February 7, 2023
EDGE Group, an advanced technology group for defence and beyond, said it will be showcasing a wide range of its products and solutions in the areas of autonomous systems, smart weapons, land systems, naval systems at the International Defence Exhibition (IDEX 2023) to be held from February 20 to 24 in Abu Dhabi.
EDGE is marking its second appearance at the IDEX 2023 and Naval Defence Exhibition (NAVDEX 2023), with the largest presence at the event, underpinning its position as one of the world's leading advanced technology groups spanning both the defence and civilian realms.
In addition to new product launches, EDGE will place a major focus on sophisticated autonomous and unmanned systems, showcasing the QX family of autonomous loitering munitions, Garmoosha rotary-wing unmanned aerial vehicle (UAV) and Scorpio unmanned ground vehicles (UGV).
Halcon's Hunter series of loitering munitions will also be on display, including the HUNTER 2-S swarming UAV, which features powerful artificial intelligence (AI).
Managing Director and CEO Mansour AlMulla said this will be EDGE's second participation at IDEX since launching three years ago, and the event this year will be the perfect opportunity for the group to fully demonstrate the phenomenal progress EDGE has made in a relatively short period of time.
As the official strategic partner, EDGE will highlight its aim to significantly up-scale UAE-made future technology and defence capabilities with a showcase of over 100 state-of-the-art products, solutions, and services in the areas of autonomous systems, smart weapons, land systems, naval systems, arms and ammunition, electronic warfare, secure communications and precision engineering, he noted.
According to him, the diverse range of technologically advanced products and solutions now available from across its portfolio of 20 companies was testament to these achievements.
"As we continue to bolster our sovereign capabilities, and expand our global footprint through exports and valuable partnerships, IDEX remains the most effective platform for EDGE to demonstrate its high quality innovative offerings across the air, land, sea, and cyber domains, with a clear focus on Autonomous and Unmanned systems, Smart Weapons and Electronic Warfare," he added.-TradeArabia News Service