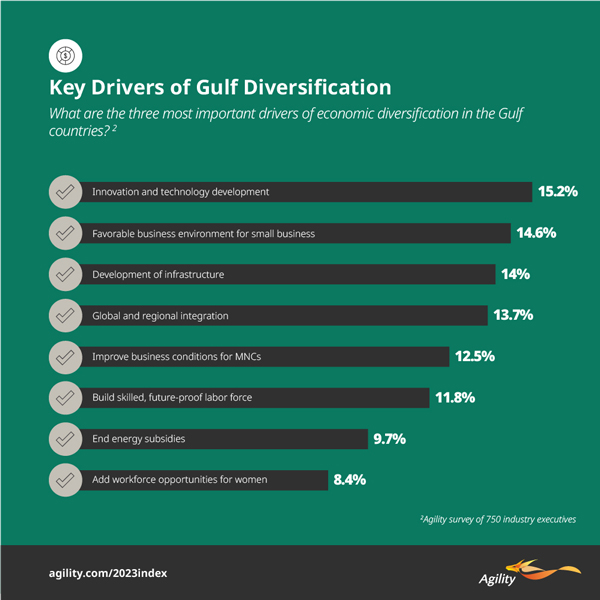 Agility Emerging Markets Logistics Index
Gulf States near top in 50-country emerging markets rankings
DUBAI, February 8, 2023
UAE ranked No 3 behind China and India in the 50-country 14th annual Agility Emerging Markets Logistics Index.
Saudi Arabia was No 6. Both countries were in the top 10 in all four Index categories: domestic logistics, international logistics, business fundamentals and digital readiness. Qatar was in the top 10 in all categories except international logistics, where it was 19th.
Global supply chain executives say innovation and help for small businesses will do the most to drive non-oil economic growth for Gulf economies, which outperformed most others.
Business fundamentals
GCC countries again dominated the business fundamentals rankings, which compare the legal, regulatory and tax frameworks of emerging markets countries. UAE (1), Qatar (2), Saudi Arabia (3), Oman (5), Bahrain (6) and Kuwait (11) were clustered at the top for best business climate.
Among the six GCC economies, Kuwait (No 15 overall) did most to improve its competitiveness, gaining ground in every category. In digital readiness, Oman, up five spots to No 10, and Bahrain, up six to No 16, made the biggest strides among GCC countries.
The Index and a survey of 750 global logistics industry executives comprise Agility's 14th annual snapshot of industry sentiment and ranking of the world's leading emerging markets. The Index ranks countries for overall competitiveness based on factors that make them attractive to logistics providers, freight forwarders, air and ocean carriers, distributors and investors.
Key drivers
In the survey, industry executives were asked to name the most important drivers of economic diversification for GCC countries, all of which are trying to reduce dependence on oil and gas by accelerating private-sector growth. Respondents identified the key factors as tech development and innovation; small business environment; infrastructure development; regional and global integration; business conditions for multi-nationals; a skilled labor force; ending energy subsidies; and creating career opportunities for women.
Outside of the GCC, there was significant volatility in the rankings. Conflict, sanctions, political tumult, economic missteps and continued Covid fallout damaged the competitiveness of Ukraine, Iran, Russia, Colombia, Paraguay and others. Among countries leaping forward in certain categories: Bangladesh, Pakistan, Jordan, Sri Lanka and Ghana.
2023 Index Highlights
SURVEY
•Net-Zero Commitment – 53% of logistics executives say their companies have committed to net-zero emissions, and another 6.1% say their businesses have already achieved net-zero.
•Climate Change - Half say climate change is a concern their businesses must plan for, while another 18% say it is already affecting them.
•Emerging Markets – 55% say they will be more aggressive in emerging markets expansion and investing or leave their existing plans untouched despite fears of recession.
•Digital Forwarding – Respondents say the biggest advantage is improved tracking and visibility; the biggest disadvantage is error/exception management.
•Ukraine – 97% indicate that their businesses have been hurt by higher costs or other supply chain challenges as a result of the Russia-Ukraine conflict.
•China – There is an even split between companies planning to reduce their reliance on Chinese sourcing and those planning to expand in China. But only 11% of respondents say their company's manufacturing footprint is the same as before Covid.
•Africa – Logistics executives see big benefits for Africa from the African Continental Free Trade Agreement (AfCTA), despite slow implementation of the agreement.
COUNTRY RANKINGS
•In the Middle East and North Africa, overall rankings were: UAE (3); Saudi Arabia (6); Qatar (7); Turkey (11); Oman (12); Bahrain (14); Kuwait (15); Jordan (16); Morocco (20); Egypt (21); Tunisia (32); Lebanon (33); Iran (36); Algeria (41); Libya (50).
•Rankings in Sub-Saharan Africa: South Africa (24); Kenya (25); Ghana (29); Nigeria (34); Tanzania (37); Uganda (43); Ethiopia (45); Mozambique (46); Angola (48).
•Overall Index rankings in Asia: China (1); India (2); Malaysia (4); Indonesia (5); Thailand (8); Vietnam (10); Philippines (18); Kazakhstan (22); Pakistan (26); Sri Lanka (30); Bangladesh (35); Cambodia (38); Myanmar (49).
•Rankings for Latin America: Mexico (9); Chile (13); Brazil (19); Uruguay (23); Peru (27); Colombia (28); Argentina (31); Ecuador (39); Paraguay (40); Bolivia (44); Venezuela (47).
•In Europe: Russia (17); Ukraine (42).
Transport Intelligence (Ti), a leading analysis and research firm for the logistics industry, compiled the Index since it was launched in 2009.
John Manners-Bell, Chief Executive of Ti, said: "It is not possible to overstate the challenges faced by emerging markets countries in the past couple of years. Geopolitical tensions have combined with financial uncertainty and the lingering effects of the pandemic to create an ever more complex business and investment environment. The role that the Agility Emerging Market Logistics Index plays in providing insight into this volatile, uncertain environment landscape is more critical than ever."-- TradeArabia News Service