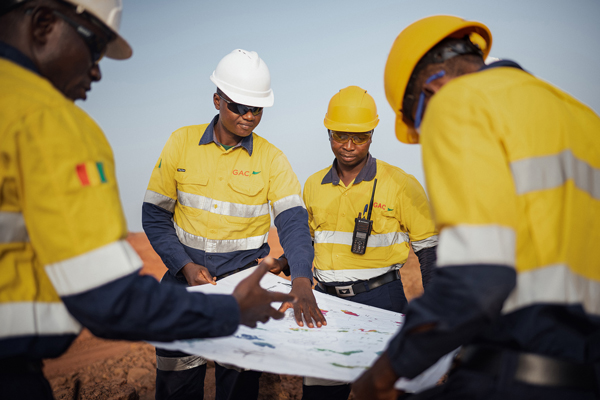 GAC employees
Emirates Global Aluminium unit wins key Guinea certification
DUBAI, March 15, 2023
Emirates Global Aluminium's (EGA) mining subsidiary Guinea Alumina Corporation (GAC) has attained the first certification in the Republic of Guinea to the Aluminium Stewardship Initiative's Performance Standard.
EGA is the largest industrial company in the UAE outside oil and gas.
Aluminium Stewardship Initiative certification is the global aluminium industry's internationally-recognised standard for environmental and social performance and governance.
Resource holder
Guinea is the world's largest resource holder of bauxite, the ore from which aluminium is derived, and the second largest global producer.
Abdulnasser Bin Kalban, Chief Executive Officer of EGA, said: "EGA aims to be a global sustainability leader for the aluminium industry, helping ensure that aluminium reaches its full potential to contribute to human progress. Guinea is a developing country, which makes sustainability an essential priority in our local business. ASI Performance Standard certification provides an independent and public verification of both what we do well and where we can continuously improve, such as in our relationships with local communities. I am proud that an EGA company has achieved the first Aluminium Stewardship Initiative certification in Guinea, and hope that other bauxite mining companies in the country will follow our lead."
The Aluminium Stewardship Initiative is a global, non-profit organisation that brings together aluminium producers, end-users such as BMW Group and Nespresso, civil society, and the public through consultation, to determine what constitutes good sustainability performance in the aluminium sector.
Fiona Solomon, Chief Executive Officer of the Aluminium Stewardship Initiative, said: The vision of the Aluminium Stewardship Initiative is to maximise the contribution of aluminium to a sustainable society, by fostering responsible production, sourcing and stewardship. Guinea plays an important role in the global aluminium value chain, and is a country where the industry's commitment to sustainability is tested. The GAC audit piloted the involvement of Guinean specialists in the audit team, after being trained in the ASI audit process as part of our Registered Specialists Programme.
"This empowered local expertise as they took the lead on social engagement during the audit process, including a wide range of community, employer and contractor interviews. We congratulate EGA and its subsidiary GAC for achieving this first ASI Performance Standard Certification in Guinea, and for their commitment to pursue responsible bauxite mining practices in this challenging setting."
The Aluminium Stewardship Initiative's Performance Standard has more than 100 environmental, social and governance requirements. Certification to Version 2 (2017) of the standard was granted following a rigorous independent audit of GAC's polices, practice and performance. The audit considered a broad range of factors both directly and indirectly related to the company's operations, including their impact on biodiversity, human rights, transparency, community engagement, emissions and waste management.
EGA was the first Middle East-headquartered company to join the Aluminium Stewardship Initiative, back in 2017. EGA's Al Taweelah site was certified to the Aluminium Stewardship Initiative's Performance Standard in 2019, with EGA's site in Jebel Ali achieving certification in 2021. EGA's Al Taweelah site was re-certified in 2022.-- TradeArabia News Service