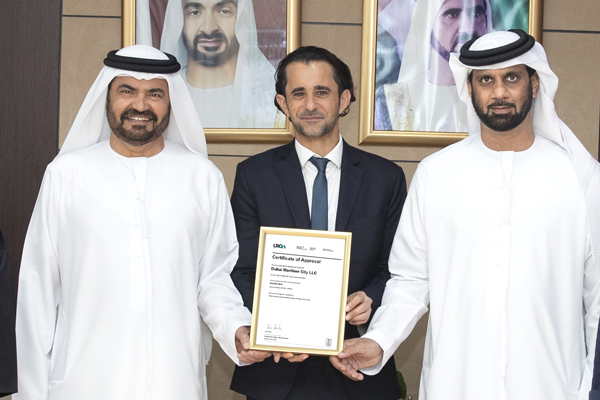 DMC officials with the accreditation
Dubai Maritime City obtains ISO accreditation
DUBAI, May 25, 2023
Dubai Maritime City (DMC) has received the ISO 9001:2015 certificate of approval for its Reservation Department from Lloyd's Register Quality Assurance (LRQA).
The certification acknowledges DMC's commitment to quality management systems of wet and dry berth reservation and booking services for vessels of DMC. This achievement reinforces DMC's focus on maintaining high quality that meets global standards and underscores its position as a leader in the maritime industry.
DMC's berthing facilities cater to varied types of vessels. Spread over an area of 1.4 million running metres, the wet berthing stretch primarily provides maritime services including ship repair, maintenance and manufacturing. The industrial district also has 42 dry berths to serve the needs of its partners.
International standards guaranteed
Mohammed Al Muallem, Executive Vice President, DP World, said: "Receiving the ISO 9001:2015 certification for our Reservation Department is a testament to the hard work and dedication of the DMC team to ensure that we maintain the highest quality standards in our services for our customers. We are committed to providing efficient and effective services to the more than 280 registered maritime businesses in our purpose-built maritime cluster.
"As a premier maritime destination in the UAE and the GCC, Dubai Maritime City is at the forefront of industry best practices, implementing the most up-to-date approaches. Our suitable environment for investments has guaranteed international standards for all partners."
Al Muallem added: "In 2022, DMC experienced a surge in wet and dry berth reservations, with a total of 581 vessels arriving, comprising 373 dockings and 332 undockings. The ISO accreditation will bolster our efforts to expand both national and regional maritime industries. This recognition further solidifies DMC's position as a prime destination for global investments and a significant driving force behind the UAE's flourishing maritime economy."
Customer demands
Of the 581 vessels that arrived at DMC last year, 538 were steel ships, 22 were wooden ships, and the remaining 21 were leisure boats and yachts. The certification serves as an indicator of DMC's ability to consistently meet customer needs and adhere to laws and regulations. This highlights DMC's dedication to maintaining a customer-centric approach and continually enhancing processes to deliver efficient and effective services to maritime businesses.
Ahmed Mohammed Alhammadi, the Chief Operating Officer at DMC, said: "DMC has always been dedicated to providing its clients with exceptional services and ensuring their satisfaction. With a focus on putting our clients first, we have worked tirelessly to build a strong relationship of trust with them. The recent achievement of ISO certification is a testament to our commitment to quality management systems. This accomplishment reinforces our position as a leader in the maritime industry, and it demonstrates our ongoing efforts to advance the UAE's blue economy. With this achievement, DMC's clients can rest assured that they are receiving services of the highest quality, and that we are dedicated to continuously improving our processes to meet their evolving needs."-- TradeArabia News Service