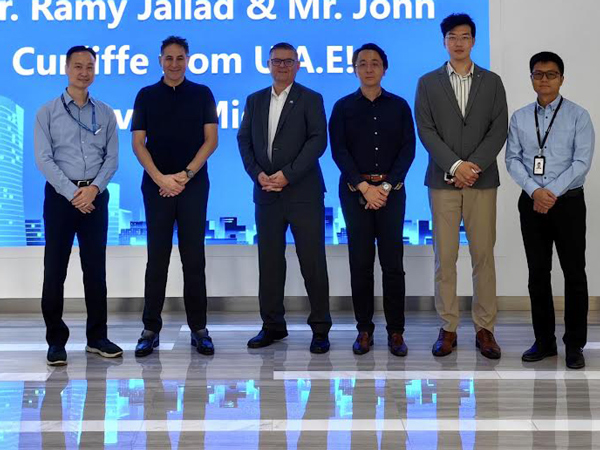 Rakez delegation with Chinese businessmen
Rakez highlights RAK's business potential to Chinese investors
RAS AL KHAIMAH, May 28, 2023
A top delegation from Ras Al Khaimah Economic Zone (Rakez) has concluded its trip to China, where it effectively showcased to investors across five major cities the exceptional benefits of expanding business to Ras Al Khaimah (RAK).
The Rakez team interacted with prominent Chinese business owners operating in a diverse range of sectors, including master developers, leading business and science parks, information technology, electronics, engineering and automotive companies.
With a diplomatic relationship dating back 39 years to 1984, China has emerged as the UAE's largest non-oil trading partner. As the two allies seek to boost their bilateral trade to $200 billion by 2030, this is a prime time for Chinese investors to explore business avenues in the fast-growing economy of the UAE.
Diverse opportunities
The Rakez delegation travelled through Shanghai, Suzhou, Qingdao, Tianjin, Guangzhou, Foshan, and Zhuhai, strategically showcasing the diverse investment opportunities available in Ras Al Khaimah while providing an overview of its thriving economy.
Rakez Group CEO, Ramy Jallad, said: "The emirate of Ras Al Khaimah has positioned itself as a preferred hub for international traders due to its business-friendly ecosystem complemented by a range of factors that make setting up and expanding operations here, as well as accessing the Mena region, highly lucrative."
He added: "The Chinese investors we met displayed great optimism about entering the UAE market through Ras Al Khaimah and tapping into regional business opportunities. We are looking forward to supporting them in their business growth journeys."
200 Chinese companies
Currently, Rakez is home to nearly 200 Chinese companies, including SMEs and industrial entities, primarily engaged in activities such as manufacturing equipment, lighting, medicine, wool, machinery and packaging materials, recycling, education, e-commerce, general trading, and a variety of commercial services.
Some of the prominent Chinese companies that are a part of the Rakez community are e-gaming company Winbo Phoenix, lighting solution provider Maxtron Show Lighting, recycler Mohamed Plastic Waste Recycling, furniture manufacturer Good Luck Foam Factory, chemical producer Zul Energy Middle East, and appliances producer Nova Machinery.-- TradeArabia News Service