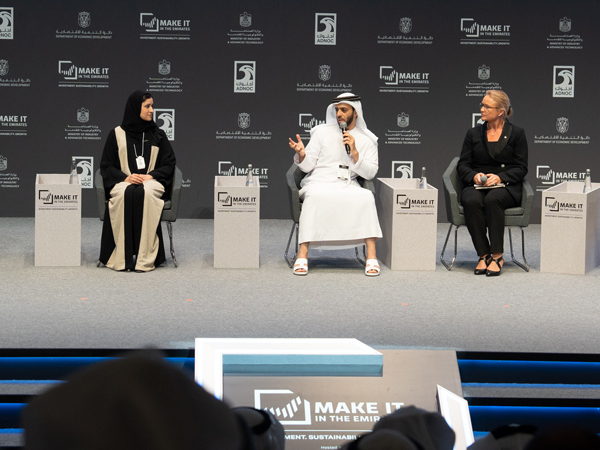 The opening panel
Public-private tie-ups are 'key to UAE's decarbonisation'
ABU DHABI, May 31, 2023
Public-private partnerships and ecosystems are key to the UAE's ambitious decarbonisation efforts, the UAE's Minister of State for Public Education and Advanced Technology, Sarah Al Amiri, has said.
Speaking at the opening panel session of the Make it in the Emirates Forum, Al Amiri highlighted that decarbonisation, a top priority for the country, extends beyond sustainability, and emphasised its pivotal role in fostering value creation, job opportunities, productivity and efficiency within the industrial sector.
Al Amiri called on governments to actively collaborate with the private sector, shedding light on the need for a "holistic" approach to unlocking the full potential of industrial growth enabled by R&D, technology and 4IR solutions.
Right blueprint
"We work very closely with industrial players. The ministry does not operate as a traditional ministry; we operate in conjunction with our stakeholders, who have a seat at the table. This partnership creates and fosters the right blueprint for advancing the UAE's industrial sector by integrating 4IR technologies across the production value chain," said Al Amiri.
The panel session, titled 'Industrial Competitiveness Through R&D and Technology,' shed light on the critical role of supporting research and development endeavors in driving economic diversification and fostering growth within the industrial sector. Joining Al Amiri on the panel were Malek Al Malek, CEO of Dubai Holding Asset Management (DHAM), Anna-Karin Rosén, Managing Director of Saab UAE, and Professor Eric Xing, President & University Professor at MBZUAI.
"Our ICV power has been cited internationally as one of the main enablers of our economic sector, including the industrial sector," stated Al Malek, emphasising the importance of economic diversification and its enabling impact on the industrial sector. He noted that diversification has driven companies to expand their operations in the UAE, enhance competitiveness, and foster strategic partnerships.
Al Malek also referred to several success stories of companies that have "made it in the UAE" and have increased their presence. He cited these stories as proof of the UAE economy's ability to transform ambitions into reality.
Role of universities
Highlighting the crucial role of universities in fostering innovation and shaping future trends across sectors, Professor Xing stated: "Universities provide an ideal environment to foster and stimulate innovation, enabling researchers to carry out their work and train their teams in a distinct setting."
He noted also that universities must focus on foresight to help countries navigate the future and create national development strategies.
Echoing this sentiment, Al Amiri highlighted that the UAE's focus on pioneering fields, like the space sector, hydrogen, and medtech showcases the country's ability to navigate transformations and equip future generations of Emiratis with the necessary education and expertise to excel.
Discussing the importance of partnerships with academia and industries, Rosén said: "I cannot overstate the strength of effective collaboration. Collaborating with the government is crucial, and we must also emphasise partnerships with academia and industries. Without the right people and proper funding in the areas where we need assistance, progress will be impeded."
Hosts and sponsors
The Make it in the Emirates Forum is being hosted jointly by MoIAT, the Abu Dhabi Department of Economic Development and Adnoc. The forum has numerous corporate sponsors, including Diamond Sponsors such as Mubadala Investment Company, Emirates Steel Arkan, and Emirates Development Bank (EDB), as well as Gold Sponsors such as Aldar, Tawazun Council, KEZAD Group, Agthia, Edge, and PureHealth.
The event's Silver Sponsors include First Abu Dhabi Bank (FAB), Dubai Investments, Al Masaood Energy, Emirates Global Aluminum, and Abu Dhabi Fund for Development (ADFD), while the Bronze Sponsors are Etihad Credit Insurance (ECI), Dubai Industrial City, Electro Mechanical Company, Mashreq Bank, Baker Hughes, National Oilwell Varco (NOV), Control Contracting and Trading (CCTC), Weatherford International and Schlumberger.-- TradeArabia News Service