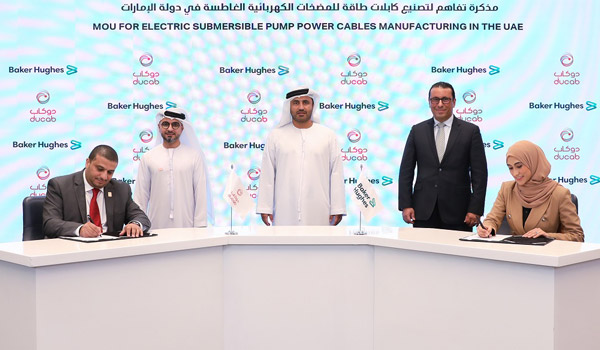 The MoU being signed
Ducab teams up with Baker Hughes to make ESP power cables
DUBAI, June 5, 2023
Ducab, one of the UAE's largest end-to-end energy solution providers, has signed a Memorandum of Understanding (MoU) with Baker Hughes to develop and manufacture power cables for electrical submersible pumps (ESPs).
The MoU holds the possibility of a future agreement between Ducab and Baker Hughes specifically regarding Ducab's potential role in manufacturing pumps for Baker Hughes in the UAE.
Mohamed Al Ahmedi, CEO of Ducab Metals Business said: "The agreement we have signed with Baker Hughes not only expands our network of partners but supports the development of cutting-edge products here in the UAE, in line with our ongoing commitment and support for the 'Make it in the Emirates' initiative."
Dynamic solution
"For Ducab, it will act as a platform to accelerate the development and manufacturing of power cables for ESPs, acting as a dynamic solution for oil and gas customers. More widely, the agreement will help contribute to our national progress and further leverage the UAE's competitive advantages," he added.
He concluded: "It reflects the attractiveness of the UAE's industrial sector and the strength of local manufacturing."
Charles Mellagui, CEO for the Cable Business Unit at Ducab Group, said: "We are constantly developing our products to keep pace with the growing needs of our customers and offer them an added value. We are confident that the new cables for ESPs will serve to enhance operations for Adnoc, Borouge, and other leading oil and gas companies in the region."
Zac Crouch, vice president of Baker Hughes Oil Field Services and Equipment MENATI region, said: "This agreement with Ducab marks an important milestone in our efforts to advance the oil and gas industry. By accelerating the development and manufacturing of power cables for ESPs in the UAE, we are taking significant steps toward providing more efficient and dynamic solutions for traditional energy companies. This MoU sets the stage for fruitful discussions that may lead to a future contractual commitment while driving innovation in the industry."-- TradeArabia News Service