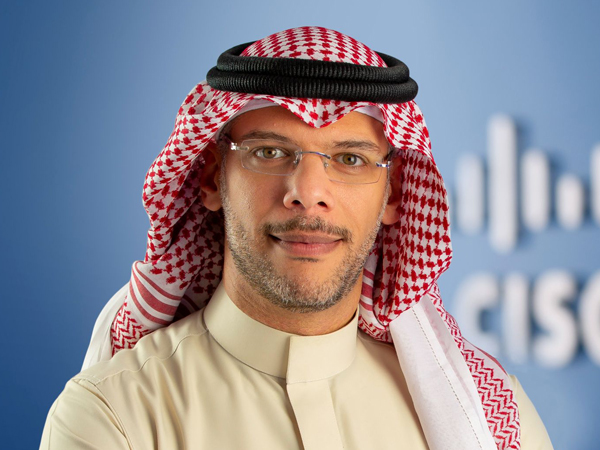 Salman Faqeeh
Cisco reveals top technology insights for 2023 ahead of Leap
RIYADH, January 31, 2023
Cisco sees security, hybrid work, multi-cloud architectures and sustainability as key themes in 2023, all powered by connectivity and a next generation of networks.
Ahead of Leap 2023 technology conference in Riyadh from February 6 to 9, Cisco has shared its insights into technological trends that will help businesses in the region make the most of digital transformation.
Visitors of Leap will experience the following trends and latest technologies, designed to accelerate public and private customers' agendas for a digital and green future, at Cisco's booth under the theme of "Powering A Connected & Sustainable Universe":
Future of Work: The future of work is hybrid, and it will enable more equitable and inclusive experiences, resulting in happier and more productive workforces. In 2023, we will also see natural language processing (NLP) and AI/ML used in new and innovative ways in collaboration solutions, powering hybrid work.
Security Resilience: Digitisation opens endless opportunities, but at the same time there is a surge in cyber threats at all levels across organisations. Cybercriminals are becoming more sophisticated and the toolkits available to them have evolved. In 2023, the next evolution in security will have to include anomaly detection and behavior patterns, though the use of AI and machine learning.
At Cisco, security is foundational throughout the wide breadth of Cisco's product portfolio, from networking to cloud. Having visibility across the network endpoints, Cisco can securely connect people and devices everywhere to applications and data anywhere.
Simplifying and Automating Infrastructure: In 2023, the network will become more experience-centric with increasing capabilities to predict potential issues and provide problem-solving options. Companies will increasingly access predictive technologies in integrated, easy-to-use SaaS offers.
This represents an important step toward a future where connectivity will be powered by self-healing networks that can learn, predict, and plan. Predictive networks will be powered by the same predictive analytics that are gathered from myriad telemetry sources.
Accelerating the Cloud Experience: In the year ahead, we will see a noticeable shift in how companies leverage multi-cloud architectures. While 89% of enterprises are adopting a multi-cloud strategy for a variety of reasons (geopolitical, technical, provider diversification), the benefits come with additional complexity in connecting, securing, and observing a multi-cloud environment.
We are seeing a move towards new multi-cloud frameworks, with more private and edge cloud applications and services ushering in a new multi-cloud operating model.
Internet for the Future: Changing the economics of the Internet is essential to connecting the world's next billion users. For four decades, Cisco connected the world safely to the internet and created immersive experiences. Today, for 5G, IoT, and the Internet to work for everyone, Cisco is evolving how networks are built to maximise operational agility and future proof infrastructure.
Sustainability and Journey to Net Zero: Net Zero will drive common standards to meet sustainability goals with advancements in Power Over Ethernet (PoE) design and hardware to transform data centers for a more sustainable future. Networking and APIs will become more advanced within data center platform management to monitor, track, and change the use of energy. IT vendors and equipment partners are focusing on the reuse of hardware (circularity).
Key role of digitisation
Commenting on Cisco's participation at Leap, Reem Asaad, Vice President, Cisco Middle East and Africa said: "With its rapidly developing and diversifying economy, Saudi Arabia looks to digitisation to play a key role. For more than 25 years, Cisco has been working with the kingdom on its innovation journey, through initiatives such as our Country Digital Acceleration (CDA) programme and Cisco Networking Academy. As we continue to help the nation realise its Vision 2030, Leap serves as a significant platform for Cisco to showcase the possibilities of a digital and green future."
Leap visitors will learn about Cisco's contributions to support the kingdom's transition to a digital economy via the Cisco Country Digital Acceleration (CDA) programme, active in Saudi Arabia since 2016. The CDA programme is a global long-term collaboration of Cisco with national leadership, industry, and academia to actively invest in strategic programs that align to national digitisation agendas.
Local impact
Salman Faqeeh, Managing Director, Cisco Saudi Arabia said: "Through our presence in the Saudi market since 1997, Cisco has shared its expertise and technology to positively impact economic growth, job creation and skills development. This year at Leap, we aren't only unveiling our ground-breaking digital technologies, we're also highlighting our commitment to spurring innovation and growing the technology ecosystem in the kingdom. We will also celebrate the 25th global anniversary of the Cisco Networking Academy, while showcasing its local impact in Saudi Arabia. Till date, the academy has trained more than 274,500 learners in the kingdom with in-demand IT skills, preparing them for the jobs of the future."
At Leap, Cisco will showcase its latest innovations alongside its channel partners, including Main Sponsor BTC Networks as well as Gold Sponsors Crystal Networks and GEER ICT. In addition, Cisco distributors and ecosystem partners will present end-to-end use case solutions which integrate seamlessly with Cisco technologies.-- TradeArabia News Service