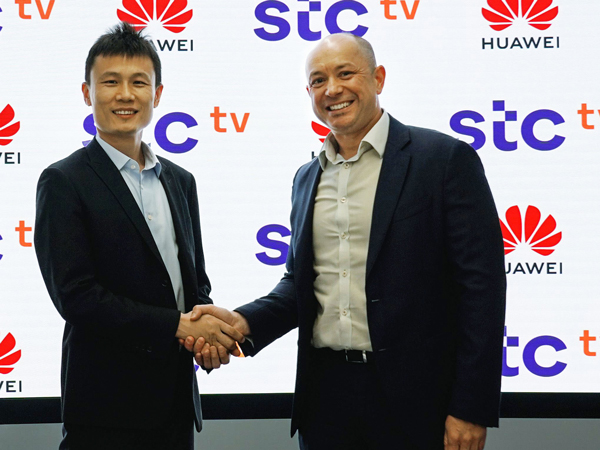 The agreement being signed
Huawei, stc tv to bring next-gen digital entertainment
RIYADH, February 1, 2023
Huawei is collaborating with stc tv, its regional partner, to bring users across the Middle East and North Africa an enhanced innovative digital entertainment experience. The agreement will see stc tv and Huawei collaborate in the digital entertainment field and roll out new bundles and offerings.
stc tv is a streaming service that aggregates and curates the top regional and global content for audiences across Mena. With an abundance of content and flurry of OTT platforms available in the market, it's becoming increasingly difficult for consumers to navigate, discover and engage with the content they like.
stc tv solves that paint point through a world-class digital streaming experience that offers the best movies, TV shows, documentaries, kids' programs, and more from top partners, including STARZPLAY, discovery+, Wide Khaliji, Cartoon Network, Boomerang & more.
Exclusives and original productions
Users are able to watch exclusives and original productions that cannot be found anywhere else, in addition to the best free-to-air and encrypted live TV channels from leading regional and international networks and broadcasters.
Liutao, General Manager, Huawei Mobile Services Saudi Arabia, commented: "The rolling tech evolution has driven major transformations across the digital media spectrum. Today, the fusion between groundbreaking technologies, including the high-speed 5G network, and OTT media is redefining digital entertainment distribution and consumption.
"We will build on our partnership with stc tv to enhance digital entertainment across the region and bring users an immersive viewing experience, supported by top-quality content and distribution technologies."
Digital entertainment
Peter Mrkic, Chief Commercial Officer at Intigral, said: "As a customer-centric OTT brand and digital content aggregator, stc tv continues to expand and optimise offerings in a way that enhances digital entertainment across the region. We are investing in building our capabilities and striking sustainable partnerships to drive digital entertainment and advance Saudi Arabia's position as a pioneering digital hub in the region.
"We are excited about this new agreement which will expand stc tv's collaboration with the multinational tech giant, Huawei, into a long-term partnership that will unlock major potential for both companies by driving innovation and creating value for our viewers."-- TradeArabia News Service