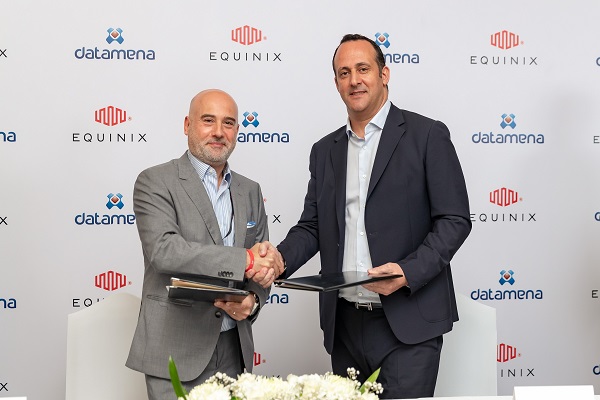 Equinix launches flexible connectivity solution for UAE businesses
DUBAI, March 11, 2023
UAE's datamena, the fastest growing carrier neutral digital ecosystem from du, has collaborated with Equinix, a top global digital infrastructure company, has announced the launch of Equinix Fabric, an advanced software-defined interconnection solution.
Equinix Fabric enables businesses to connect to distributed infrastructure and digital ecosystems directly, securely, and dynamically on platform Equinix through a single port in and out of the region.
Built on top of datamena network, Equinix Fabric provides a seamless, reliable, and flexible connectivity solution for businesses and customers looking to optimize their WAN or access to a variety of digital ecosystems and service providers remotely to connect their own infrastructure in the region, it stated.
Kamel Al Tawil, Managing Director, Equinix Mena said: "The launch of Equinix Fabric in the UAE sets the stage for Equinix to further expand its offering in the Middle East and North Africa region and also opens this amazing part of the world to companies looking to connect their own infrastructure as well as connect with businesses in the region."
"Dubai has come a long way when it comes to global connectivity, and with Equinix Fabric as a key enabler for digital transformation, offers a solution that simplifies the complexity of networking and helps businesses connect to digital ecosystems on our global platform in a more secure and cost-effective manner, accelerate innovation, and improve their customer experiencem," he noted.
Equinix Fabric simplifies remote connectivity in just a few quick clicks, customers can use Equinix Fabric just like they are already doing in other Equinix Fabric locations. Using virtual connectivity delivered on a shared platform and in a way that consumes fewer physical resources, is a more sustainable option.
Karim Benkirane, Chief Commercial Officer, du said: "The UAE has established itself as a hub for innovation, with a thriving digital ecosystem and investments in advanced technology. Equinix Fabric's launch in the UAE allows for greater interconnectivity within the region, making it easier for businesses to access the resources they need."
"du's partnership with Equinix is part of a larger plan to continue supporting businesses by offering them an opportunity to connect to multiple cloud service providers and network service providers," stated Benkirane.
"Combined with the capabilities of datamena and Equinix Fabric, enterprises can take advantage of a unique opportunity to enter the Mena market and unlock new growth opportunities," he added.-TradeArabia News Service