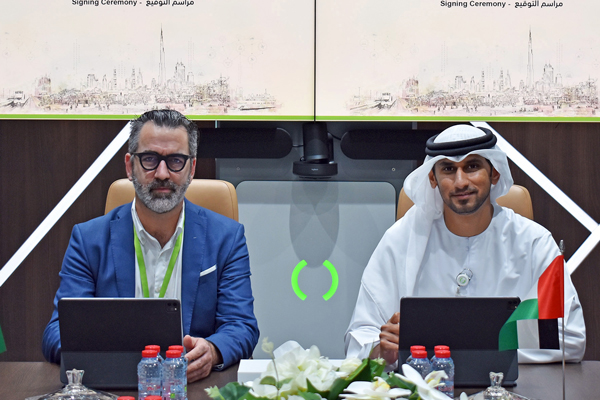 The signing ceremony
Moro Hub, WMW to drive sustainable digital transformation
DUBAI, March 14, 2023
Moro Hub, a subsidiary of Digital Dewa, and WMW, a fully customisable IoT data platform, have signed a partnership to drive sustainable digital transformation in the UAE.
Signed between Mohammad Bin Sulaiman, Chief Executive Officer of Moro Hub and Bert Vanaken, Chief Executive Officer of WMW, the agreement aims to leverage WMW's IoT data platform and applications to deliver valuable business insights to Moro Hub's clients across any industry and for any use case.
"Moro Hub is well on its way to drive, host and enable digital transformation for the better good. According to the World Economic Forum, IoT is undoubtedly one of the largest enablers for responsible digital transformation, and therefore an important cornerstone for Moro Hub's vision for a better future. For companies and organisations around the world to make changes in their processes that contribute to delivering sustainable goals, they need to understand where and how to make that change.
IoT solutions
"This is where data comes in; data to gain the insights needed to tackle the issue at their core. Our partnership with WMW will enable businesses to capitalise on IoT solutions and obtain valuable insights, making their operations more efficient," said Bin Sulaiman.
According to Precedence Research, it is estimated that the Industrial IoT market size will grow from $326.1 billion in 2021 to $1742.8 billion by 2030. This economic value will increase even more once consumer and public sector IoT are included.
With the help of WMW's IoT platform, which acts as a hub with a single user interface to visualise any asset in any location for any use case, sensors detect and collect any sort of activity and any sort of datapoint. These are then reported into a dashboard where they are analysed and translated into actionable outcomes for Moro's customers.
"Serving a common goal to help private and public sector entities achieve their digital goals sustainably, we provide agnostic and 100% customisable IoT solutions by collecting, analysing and visualising IoT data that can help clients accelerate their business growth. Our partnership with Moro Hub will not only facilitate business organisations in their day-to-day operations, but also translate into sustainable success measures," said Vanaken.-- TradeArabia News Service