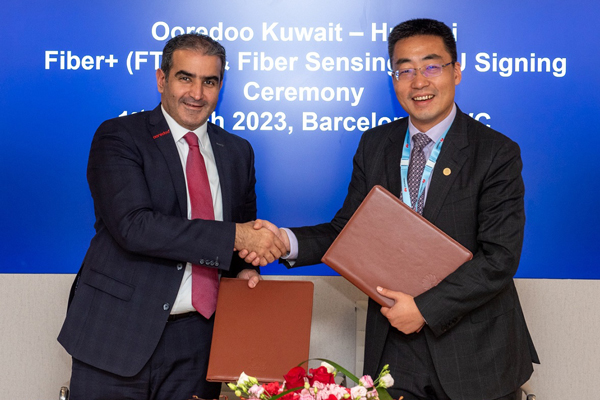 Officials after signing the agreement
Ooredoo, Huawei to develop fibre-optic sensing smart solution
KUWAIT CITY, March 15, 2023
Ooredoo Kuwait, a leading telecommunications company in Kuwait, signed an agreement to jointly upgrade FIBRE+ high-speed Internet experience, and develop a fibre-optic sensing smart solution. The deal was signed during the recently concluded Mobile World Congress 2023, Barcelona.
Ooredoo Kuwait has witnessed an exceptional year when the company introduced the first of its kind FIBRE+ solution last year, the new generation of FTTR (Fibre To The Room) to enhance and improve internet coverage through optical fibres at homes and in large areas.
FIBRE+ extends fibre across the home and aims to build an all-optical base for smart homes and digital enterprises, enabling gigabit Wi-Fi 6 coverage in each room and creating a brand-new digital experience providing parallel connections of wide range of digital applications, such as temperature and humidity sensors, Virtual Reality, PC/laptops, floor sweeping robot, video surveillance/streaming, and smartphones.
Last mile connection
Ooredoo Kuwait trials advanced network access technology to expand the capability of its last mile connection to sustain the ever-increasing demand of internet bandwidth and indoor coverage spots. The service can offer an advanced connectivity experience doubling current internet speed to reach beyond 1 Gbps throughput.
Thus, it can provide higher capacity to connect bandwidth-hungry devices, and carry ultra-high definition 4K video applications, efficient access to cloud services, faster online gaming experience, streaming video conferences, and much more.
Furthermore, Ooredoo futuristic vision about smart city has driven the company planning to test advanced fibre sensing applications over FAST telco's fibre infrastructure (the company owned by Ooredoo Telecom). The solution will evolve the fibre network to have the capability to inspect, detect, locate, and measure events, such as temperature and strain, in real time at any point along the fibre installation without the demand of having new IoT sensors and power sources.
Smart fibre optical sensing
Smart fibre optical sensing can be used in different industries in the private and public sectors to support a variety of applications in the Oil & Gas, pipeline, transport, structured health, electric utilities, security, data centre and telecom cables.
Abdulaziz Al-Babtain, Ooredoo Chief Executive Officer said: "This cooperation comes in line with Ooredoo's vision to empower Kuwait's society by driving digital transformation and enriching people's digital lives. As a leader of Kuwait's broadband infrastructure development, we continuously seek to develop our 5G innovative network, build smart connectivity products, and provide digital services to support the digital transformation journey of our customers.
"Ooredoo is keen to continuously provide unique innovative and advanced technologies that elevate its customer experience, empower full connection of home and office Internet of Thing (IOT) devices, and provide industries with more reliable and efficient solutions to accelerate their digitalisation process."
Digital transformation
An Jian, President of Huawei Carrier Business Group in the Middle East & Central Asia, said: "This agreement is a milestone to foster our long-term strategic partnership with Ooredoo. Huawei is committed to using its global knowledge and expertise to support Ooredoo in accomplishing digital transformation and achieving business success. We hope our partnership expansion with Ooredoo will actively contribute to Kuwait's progress in strengthening the country's digital infrastructure and becoming a global leader in digitalisation."
Ooredoo and Huawei are continuously working together to enrich people's digital lives and keep them connected through the latest advanced and innovative solutions to realise smart and secure cities, aligning with Kuwait's 2035 vision "New Kuwait" that aims at strengthening the country's digital infrastructure and accomplishing digital transformation.-- TradeArabia News Service