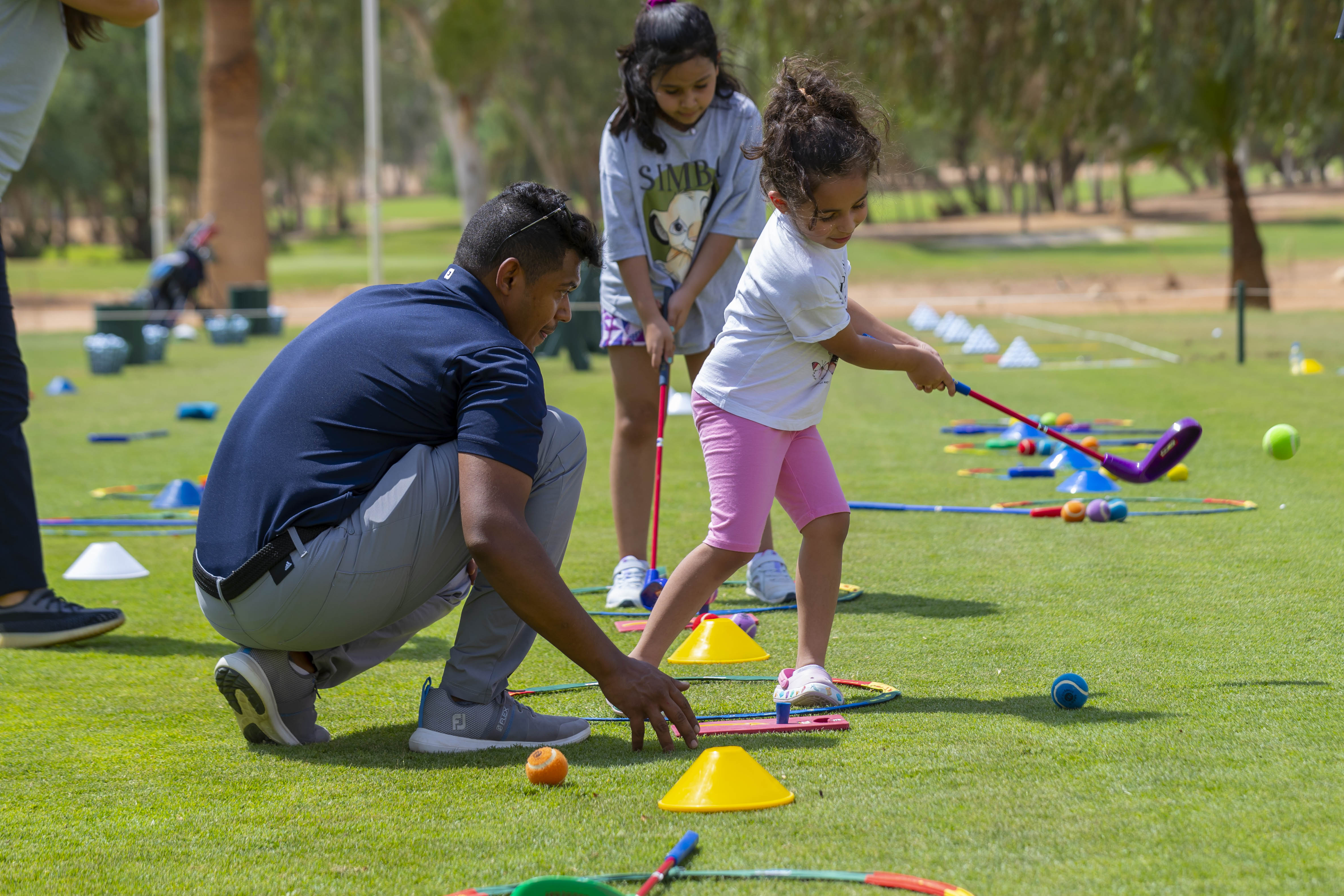 Golf Saudi opens Dirab facility for families
RIYADH, September 25, 2021
Following its acquisition of Dirab Golf & Country Club, Golf Saudi has now re-opened the golf course and the clubhouse to the public after an ambitious redevelopment programme.
Situated in the heart of the kingdom's capital, Dirab Golf & Country Club has implemented a series of improvements across the entire site in early 2021, including facility enhancement, landscaping, agronomy, the implementation of associate training programmes, guest management and general course renovation.
The reopening celebrations coincided with the 91st Saudi National Day on September 23, with Dirab Golf & Country Club organising activities for golfers, kids and families.
As part of Golf Saudi's Mass Participation programme, Dirab organised activities for visitors of all ages to try golf through a series of fun activations, including The Stadium Concept and SNAG.
The celebrations offered entertainment for the whole family with live and interactive kid's games. Traditional Saudi heritage was also celebrated with a traditional food tent and Najdi folklore dancing.
The National Day celebrations were just the first in a long line of upcoming events, which the golf club has planned in order to engage with local culture and the Saudi public, as art of its long-term plans to become a destination for exceptional experiences.
An international management presence is now overseeing the property, with additional resources from Golf Saudi's Corporate office and Dirab Golf & Country Club benefiting from the new team's multiple years of experience in the Middle East.
Enhancements have been made to both front and back office with strong policies and procedures now in place throughout the club's operational areas.
Improvement will be continuous with ongoing targets set. Regular training seminars will be held for all members of the team at Dirab Golf & Country Club, so they can quickly become acquainted with Golf Saudi's management ethos and vision.
Majed Al Sorour, Deputy Chairman of the Saudi Golf Federation and CEO of Golf Saudi, said: "This is an exciting phase in the course and club's history. Golf Saudi is delighted to formally re-open Dirab Golf & Country Club following a series of wall-to-wall improvements across the entire club."
"Our hope is to enhance and grow the game of golf in the kingdom and encourage Saudis to pick up a club for the first time and give golf a go but also unlock employment opportunities within the wider golf industry. Golf is a game for everyone and as part of Vision 2030, this is just one of the steps Golf Saudi has undertaken to ensure that golf is accessible to all," he added.
Dirab Golf & Country Club was the first grassed 18-hole Par 72 Championship course built in the Kingdom of Saudi Arabia. Located 45 km south-west of Riyadh and nestled in the picturesque Tawfiq valley, the club features tree-lined fairways and manicured greens.
"Through making these improvements, we hope that Dirab Golf & Country Club will become the capital's go-to golf course," stated Al Sorour.
"I have no doubt that it will become one of the best golf courses in Saudi Arabia and I am confident that our extensive investment into the club will entice members, visitors, golfers, and non-golfers to enjoy the new range of benefits and remarkable golfing facilities that are now on offer, thanks to the efforts of the Golf Saudi team who have overseen this redevelopment," he added.-TradeArabia News Service