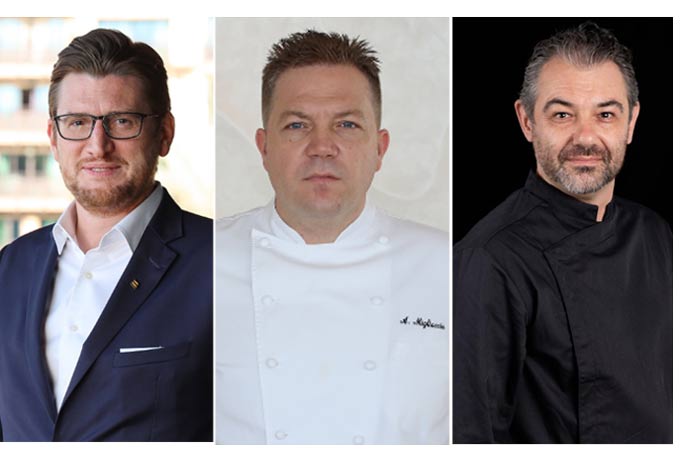 Chaudron, Migliaccio and Torres
New culinary talents join Jumeirah Group
DUBAI, November 18, 2021
Jumeirah Group, the global luxury hospitality company and a member of Dubai Holding, has announced a raft of new appointments as the expansion of its world-class culinary portfolio ramps up.
Following the earlier announcement of 13 new and re-imagined concepts set to open over the next two months, the innovative new chefs and mixologists will further strengthen the Jumeirah Restaurants team and support in transforming the Group's stunning beachfront into a vibrant culinary hotspot.
Jose Silva, Chief Executive Officer of Jumeirah Group, said: "Exceptional dining is a core focus for Jumeirah Group and central to our expansion. At the heart of this is the recruitment of high calibre and well-known chefs to strengthen the incredible collection of restaurants and bars in our portfolio and enhance the guest experience. We are immensely proud to have a world-class line-up of talent joining our Jumeirah Restaurants team, who will no doubt help make the launch of our enhanced and new restaurant concepts a resounding success."
At the iconic Burj Al Arab Jumeirah, Chef Saverio Sbaragli takes on the role of Head Chef at Al Muntaha, bringing Michelin star expertise in French fine-dining cuisine with Italian influences, to create one of Dubai's most authentic and exquisite culinary experiences. Chef Tom Koll joins the world-famous hotel as Executive Pastry Chef, showcasing his in-depth industry knowledge and Michelin starred experience to bring guests new and reimagined offerings.
Chef Andrea Migliaccio steps into the role of Executive Chef at Al Mahara, joining from Capri Palace Jumeirah's Michelin starred restaurants L'Olivo and Il Riccio. He will enhance the menu with his modern re-interpretation of seafood gastronomy as part of its reinvention as a decadent 'fish club'. Rounding off the new team is acclaimed mixologist Thibault Mequignon as Bar Manager of glittering nightspot Gilt, which will transform into a beverage apothecary. Having worked in some of the world's best bars across London and Paris, Mequignon will serve up a world-class selection of innovative drinks.
At Jumeirah Al Naseem, Chef Marco Acquaroli joins Rockfish as the Executive Sous Chef, with over 10 years of experience in Michelin starred restaurants across Europe, Africa and the Middle East. Remy Marquignon also joins the team as Sous Chef, bringing his invaluable Michelin star experience to the role. At Rockfish, Acquaroli and Marquignon create exquisite delicacies that are reflective in every dish brought to the table, transporting guests to the coasts of Italy. Stepping into the role of Pastry Chef for the hotel is Chef Julien Jacob, bringing over 16 years of experience in the art of pastry and baking techniques to serve an exceptional selection of desserts across the hotel's restaurants and lounges.
Heading up the F&B operations at Jumeirah Mina A'Salam, Charles-Antoine Chaudron joins as Director of F&B. Having previously worked at luxury hotels across France and England, including the Peninsula Paris, Chaudron will oversee and strengthen the hotel's existing and upcoming culinary offerings. At Zheng He's, Chef Wong Lian You takes on the role of Executive Chef where he will bring to life the reimagined Dubai institution, with the best of traditional Chinese flavours and handcrafted Dim Sum.
Taking on the role as Outlet Manager of Pierchic, one of the UAE coastline's most distinctive dining destinations located at Jumeirah Al Qasr, is Andrea Gerli. Gerli brings over eight years of hospitality experience in the Middle East and Europe to the role where he will oversee the daily operations.
Lastly, Sebastien Torres joins Jumeirah Beach Hotel as Executive Chef. Torres has had operational oversight of a variety of specialty restaurants ranging from brasserie style to fine dining establishments with two Michelin stars. At Dubai's family favourite hotel, he is set to elevate the culinary experience across the new and existing outlets. - TradeArabia News Service