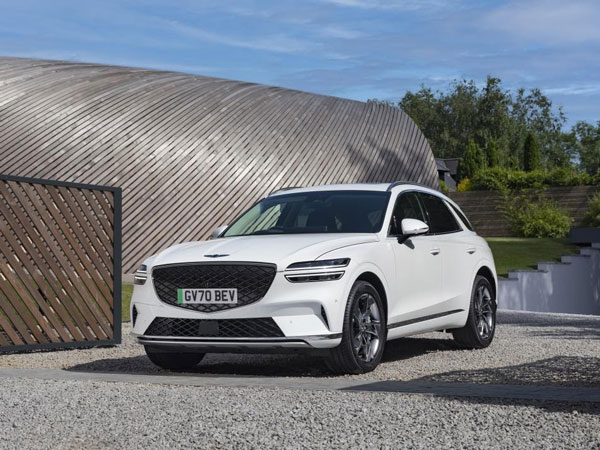 Genesis Electrified GV70
Genesis Electrified GV70 unveiled at Goodwood Festival
DUBAI, June 29, 2022
Genesis Motor Europe has revealed its Electrified GV70 at this year's Goodwood Festival of Speed in partnership with Mastercard 2022.
The eagerly anticipated Electrified GV70 is the third electric car to be launched by the brand this year, following on from the GV60 and Electrified G80, and was unveiled on the Genesis stand at the world famous British automotive event by Andrew Pilkington of Genesis Motor UK, and the Duke of Richmond.
Electrified GV70 embodies the brand's award-winning 'Athletic Elegance' with the highest standards in luxury, comfort and versatility. It is also underpinned by state-of-the-art electrical architecture that delivers exceptional driving performance, an impressive range and state-of-the-art charging flexibility.
Cutting-edge electrical architecture
Dominique Boesch, Managing Director for Genesis Motor Europe, commented: "Featuring our cutting-edge electrical architecture and focus on luxurious sustainability, it represents another big step in our commitment to deliver an all-electric line-up of vehicles by 2025.
"As with our other SUV models, it retains exceptional versatility and usability, as well as unrivalled comfort and driving pleasure. As the third new electric car from Genesis to be launched in Europe in under a year, Electrified GV70 is further evidence of the brand's bold ambitions for the region."
Four short films
To celebrate Electrified GV70's European unveiling at Goodwood Festival of Speed, four short films launched across the weekend. Using vehicle-to-load (V2L technology) Electrified GV70 is shown powering multiple Goodwood household appliances and assisting with wider estate services – showcasing the innovative technology of the car and the multiple ways in which it can be used.
The vehicle-to-load function works by using the car's battery to supply auxiliary power to electrical devices outside of the car, with an output of up to 220v or 3.6kw – more power than is generated by the average house.
The car can become a mobile power bank to supply electricity to anything from gardening equipment and domestic appliances to camping equipment and e-bikes.
Electrified GV70 was viewed by visitors on the Genesis stand, where it was joined by the brand's range of vehicles, including the Electrified G80, GV80 SUV, G70 Shooting Brake, and GV60.
Genesis X Speedium Coupe
Also on the Genesis stand was the stunning Genesis X Speedium Coupe, which made its first appearance in Europe, following its global unveiling in New York earlier this year. A bold evolution of the brand's trademark 'Athletic Elegance' design philosophy, it was able to give visitors an exclusive glimpse of how future Genesis electric cars will look.-- TradeArabia News Service