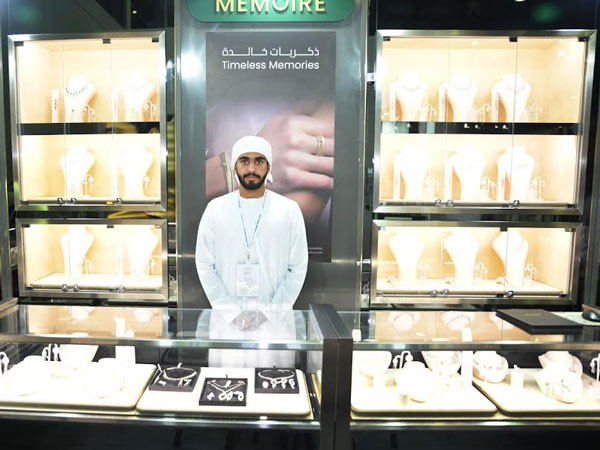 Mémoire Jewellery at the show
Mémoire Jewellery makes mark at the Jewels of Emirates Show
SHARJAH, July 3, 2022
UAE's Mémoire Jewellery made its mark on its debut appearance at the Jewels of Emirates Show, drawing a large number of visitors to a showcase of hundreds of pieces of ornaments, diamonds and gold jewellery.
Visitors to the 3rd edition of the show at the Expo Centre Sharjah were captivated by Mémoire's display because of their precise designs, clear geometric forms, and finest gold and diamonds. The collection included innovative sets of internationally designed necklaces, earrings, bracelets and diamond rings.
Saeed Ghanem Al Suwaidi, CEO of Mémoire Jewellery, said the Jewels of Emirates Show is regarded as a distinct platform aimed at enhancing the gold and jewellery industry locally and promoting UAE brands and companies. The show offers the company a significant opportunity to showcase its finest items as well as market its unique and original designs, which were well received by visitors.
Timeless Memories
"On its debut appearance the company launched its latest brand, 'Timeless Memories'. The collection included a variety of the finest gold and jewellery sets of high quality and international designs," he added.
Furthermore, what distinguishes Mémoire's featured collection is its extensive reliance on 18K pure gold, gemstones, and diamonds manufactured in Italy, Turkey, and Hong Kong.
Mémoire Jewellery intends to launch an online platform as well as three branches at Sharjah Airport, Rahmania Mall, and Sharjah Cooperative Society, Al Qarain Branch, in order to reach the broadest segment of customers in the UAE.-- TradeArabia News Service