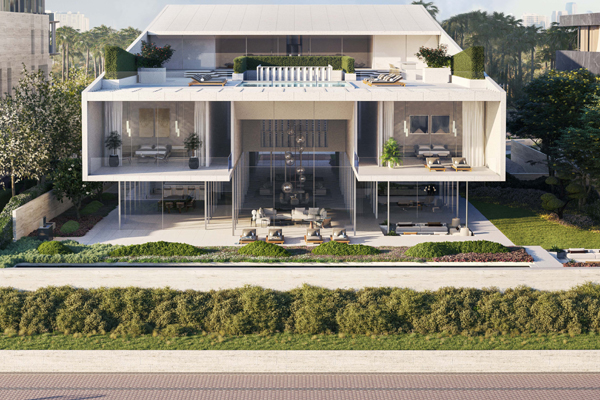 MAG launches four more ultra-luxury Dubai mansions for sale
DUBAI, January 12, 2023
Following the successful launch of eight of the 12 mansions at The Ritz-Carlton Residences, Dubai, Creekside, part of the Keturah Resort, Dubai developer MAG has announced the release of the remaining four Sky mansions onto the market, each valued at AED200 million ($54.4 million).
Each of the newly announced mansions comprises four levels (Basement + G +2) constituting eight magnificent bedroom suites, a majlis, a media room, a lounge, living and family rooms, dining spaces, and a personal office.
The mansion, outfitted with cutting-edge home automation and security systems, also caters to leisure as it has a premium spa, private wellness facilities, a state-of-the-art gym, and a cinema, said the statement from MAG Group.
The Sky mansions offer home buyers a wide range of facilities, including a cigar lounge, a sky pool, and a manicured area where the magnificent main bedroom suite has a rooftop terrace with a pool.
It spans up to 48,000 sq ft of built-up area, with underground parking for up to 8 vehicles. Each home also has a private mooring for up to 120-foot yachts, it added.
On the sales launch, Senior Executive Vice Chairman Talal Moafaq Al Gaddah said: "The unveiling of the Sky mansions further heightens our overall enthusiasm, as we are thrilled with the response to our launches of the Earth and Water mansions. The project has been designed in response to strong demand and project sales."
"The careful planning that went into creating the mansions, symbolising intellect, creativity and new beginnings, considered the elements of nature. The Ritz-Carlton Residences, Dubai, Creekside project reflects MAG's ongoing efforts to provide an immersive wellness-luxury lifestyle across Dubai by taking a comprehensive approach to offering top-notch amenities within residences and meeting the current aesthetic standards of residents," he noted.
According to MAG, the exterior and interior designs of the mansions reflect the natural elements of the sky, giving residents unique experiences.
The Sky mansions' interiors reflect an eternal sophistication based on enormous, elegant, and light-filled areas complemented by unique, custom-made designer furnishings. The residences are distinguished by their high aesthetic value and use only hand-selected premium materials from artisans worldwide to offer a long-lasting and exquisite experience, stated the developer.
The use of glass-framed courtyards, changeable architectural screens, and covered terraces allow continuous journeys for the residents to engage with the interiors and gardens, it added.
The Keturah Resort by MAG is strategicaly located on Dubai Creek facing Dubai's wildlife sanctuary in Ras Al Khor. It provides convenient access to Dubai Downtown, Dubai International Financial Centre, and Dubai International Airport, explained Al Gaddah.
The resort offers homeowners a wide range of facilities, including a Ritz-Carlton hotel; beach access, a private members-only club; a women's club; a kids club; an immersive, holistic wellness Centre; Michelin-star restaurants; and a retail promenade, he added.-TradeArabia News Service