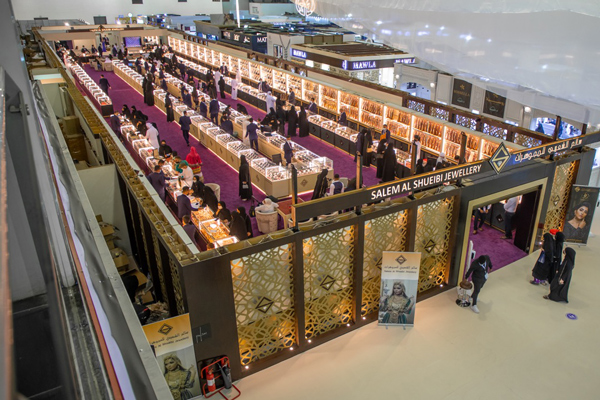 A former edition of the show
'Jewels of the Emirates' to show prowess of Emirati designers
SHARJAH, May 31, 2023
The much-awaited 'Jewels of the Emirates' show, the first Emirati exhibition specialising in diamond jewellery, gold, silver, and luxury watches, will commence at Expo Centre Sharjah, captivating visitors from June 1 to 4.
Organised by the Centre with the backing of the Sharjah Chamber of Commerce and Industry (SCCI), the prestigious event, now in its fourth edition, will showcase the artistry of some of the best Emirati jewellery and gold designers, along with over 100 exhibitors from top-tier local brands specialising in the gold, silver, and diamond trade and industry.
The expo coincides with a festive period, offering visitors a unique opportunity to acquire the most exquisite Emirati heritage jewelleries, including exclusive pieces adorned with natural pearls, diamonds, and precious stones.
Offers and discounts
With numerous offers and discounts available, shoppers can enjoy the event's competitive prices, while also having the opportunity to take part in various draws organised by the centre, standing a chance to win an array of precious prizes, including gold and diamonds.
Additionally, the show will provide a dynamic platform for emerging gold and jewellery ventures, fostering opportunities for young Emirati talents to engage deeply in the gold trade, as well as in the artistry and production of exquisite jewelleries.
Moreover, the event will enhance the caliber and competitiveness of domestic products within both local and regional markets.
Previous editions of the event have seen substantial participation from from local designers and young Emirati talents, showcasing gold works inspired by Emirati heritage, including unique "Tabla" and "Shabasa" pieces, items encrusted with mother of pearl and pearls, diamonds, and a selection of precious and rare stones like malachite, quartz, sapphire, and ruby.
The 'Jewels of the Emirates' show welcomes visitors free of charge on Thursday, Saturday, and Sunday from 1 pm to 10 pm, and on Fridays from 3 pm to 10 pm.-- TradeArabia News Service