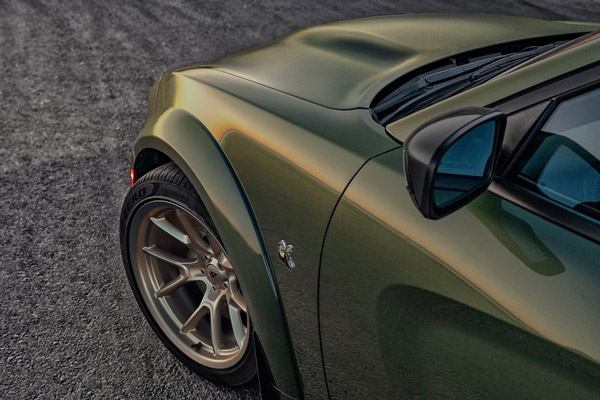 Dodge Last Call
Dodge announces 'Last call' V8 models for Challenger and Charger
DUBAI, June 8, 2023
Dodge has announced the limited production of the 'Last Call' editions of the Dodge Charger and Dodge Challenger in their current form, marking the end of an era for the legendary V8 HEMI engine in these vehicles.
The Dodge 2023 'Last Call' lineup will feature a return of some heritage colours to its wide variety of exterior colours, offering customers more options. Dodge will also offer certain packages that were never available before, including the Charger/Challenger GT Blacktop Edition, Charger GT HEMI Orange Edition, and Charger Scat Pack Widebody, which is new to the region.
These special models will pay homage to the muscle car, and a commemorative 'Last Call' underhood plaque will be added to all 2023 Charger and Challenger vehicles.
Limited-edition models
The limited-edition models available in the Middle East include the Charger/Challenger Swinger, Charger King Daytona, Challenger Black Ghost, and Challenger Shakedown. These vehicles are a true testament to the enduring legacy of the American muscle car, with their powerful engines, distinctive styling, and unique features.
The V8 HEMI is an iconic engine that has become synonymous with American muscle cars over the years. The HEMI engine has been a defining feature of Dodge vehicles for decades and continues to capture the thrill of automotive enthusiasts around the world. It is known for its impressive output, unmistakable sound, and unique design.
Stuart Laurie, Head of Chrysler, Dodge & Ram Trucks at Stellantis Middle East, said: "This year marks the beginning of an exciting new chapter in our brand's history as we bid farewell to an iconic era and usher in an electrified future. Throughout the years, the V8 HEMI engine has been the beating heart of the Dodge Challenger and Charger, embodying essence of what makes these muscle cars so special. With our limited edition 'Last Call' models, we are paying homage to the legendary history of these vehicles while simultaneously propelling them to new heights of power and performance."
Charger/Challenger Swinger
The original Dodge Dart Swinger was a member of the Dodge 'Scat Pack' club, packing formidable horsepower into a compact package, and included 'groovy' options, such as green-on-green interior/exterior colour combinations, gold colour accents and wood panel interior touches.
The 2023 Dodge Challenger Scat Pack Swinger and 2023 Dodge Charger Scat Pack Swinger modern-day special-edition models reach back to that past for inspiration, delivering a throwback exterior and interior appearance. There will be approximately 1,000 units in production globally.
Charger King Daytona
The 2023 Dodge Charger King Daytona traces its lineage to a famous monarch of the 1960s and 1970s West Coast drag-racing scene: William 'Big Willie' Robinson, who nicknamed his 1969 Dodge Charger 'King Daytona' and used it not only in claiming victory at the drag strip, but also in keeping racers on the track and off the streets.
The 2023 Dodge Charger King Daytona honours the original by bumping performance to 807 horsepower and pairing a Go Mango exterior with unique orange interior accents. There will be approximately 350 units in production globally.
Challenger Black Ghost
The 2023 Dodge Challenger Black Ghost special edition offers a modern manifestation of the historic vehicle, wrapping a black-and-chrome appearance, including unique black 'gator skin' roof vinyl graphics similar to the original, around a Challenger SRT Hellcat Redeye Widebody bumped up to 807 horsepower. There will be approximately 400 units in production globally.
Challenger Shakedown
The 2023 Dodge Challenger Shakedown pays tribute the original Dodge Shakedown Challenger concept, which shook up the display floor when unveiled at the 2016 Specialty Equipment Market Association (SEMA) Show in Las Vegas. The special-edition 2023 Dodge Challenger Shakedown follows the original's theme of a black-and-red interior and exterior that fuses a modern and vintage feel. There will be approximately 1,000 units in production globally.-- TradeArabia News Service