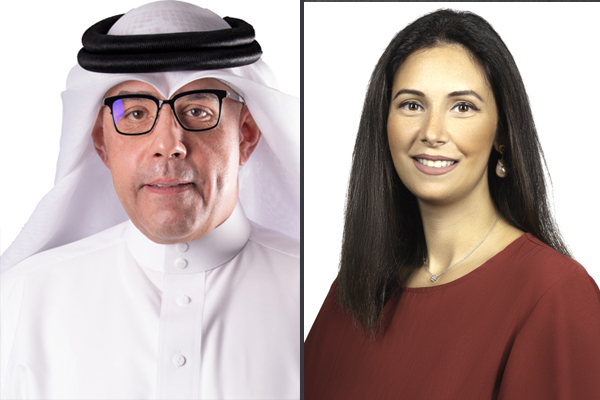 Tariq Ali Aljowder and Fajer Al Pachachi.
Bahrain Car Parks signs up for entrepreneurship-themed reality show
MANAMA, January 7, 2023
Beban, an entrepreneurship-themed reality show produced by Hope Ventures, the investment arm of Hope Fund, has announced Bahrain Car Parks Company (Amakin) as a Partner for Season 2, which airs every Wednesday at 6pm on Bahrain TV and the region's biggest video-on-demand platform, Shahid, as well as 9.30pm on AlRai TV.
Beban revolves around entrepreneurs pitching their businesses before a panel of regional investors for investment and strategic business development opportunities.
The show aims to shed light on success stories and facilitate the co-investment of high-potential businesses alongside the private sector to strategically accelerate their business growth in regional and international markets. Season 1 resulted in a commitment of 5 deals worth over $1,000,000 in total and $120,000 worth of advance orders.
According to the organisers, Season 2 is bigger, louder, and more exciting as it expands to include entrepreneurs and strategic business opportunities from Bahrain and the UAE.
It also comprises an exciting new element to the show; a crowdfunding platform that will allow the public to invest in the opportunities presented on the show from the comfort of their homes.
The platform, which is licensed by the Central Bank of Bahrain, will give businesses the opportunity to raise investment from numerous investors, they stated.
The introduction of the platform makes Beban TV show the first interactive reality TV show in the world with a crowdfunding element to it, further giving businesses the opportunity to raise investment from numerous investors, they added.
Commenting on the partnership, Fajer Al Pachachi, General Manager at Hope Ventures, said: "We aim through Beban TV show at Hope Ventures to shed light on promising Bahraini entrepreneurs, which is why I am thrilled about the partnership with Amakin, as it aligns with our mission and enables us to highlight our entrepreneurs' journeys in an innovative way that encourages the pursuit of entrepreneurship in the Kingdom of Bahrain."
Hope Ventures is the investment arm of Hope Fund, which was established by the decree from His Majesty King Hamad and is governed by HH Shaikh Nasser bin Hamad Al Khalifa, Representative for Humanitarian Work and Youth Affairs, with the vision to support youth projects and initiatives.
Hope Ventures invests in promising Bahraini businesses and strategically accelerates their growth internationally, noted Al Pachachi.
Amakin said it remained committed to changing the narrative around parking spaces in Bahrain to function as innovative community hubs. The company also plays a prominent role in the development of the Kingdom's smart city initiatives.
Through the partnership, Amakin aims to promote Hope's strategy of inspiring and synthesizing hope amongst the community through the use of the company's digital screens across the kingdom.
On the key partnership, its CEO Tariq Ali Aljowder said: "The Kingdom of Bahrain abounds with innovative Bahraini entrepreneurs who have proven to be highly efficient in facing various challenges and transforming them into local and international achievements."
"We at Amakin believe in their abilities and skills and always strive to stimulate entrepreneurship. Further, we support & empower creative Bahraini youth enabling them to be an essential pillar in the country's development," noted Aljowder.
"From this standpoint and within the scope of our social responsibilities, we partnered with Hope Ventures by supporting Beban, which has proven to have an effective role in supporting and highlighting the achievements of young Bahraini entrepreneurs," he added.-TradeArabia News Service