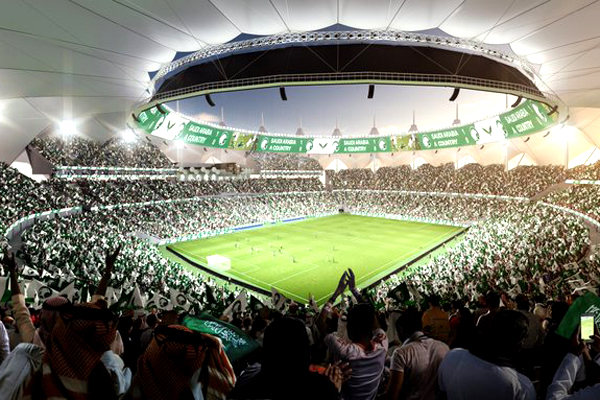 Saudi Arabia to build 3 new football stadiums for 2027 Asian Cup
RIYADH, February 6, 2023
Saudi Arabian Football Federation (SAFF) has announced that it will build new stadiums in the capital Riyadh as well as Dammam city and in Qiddiya for the 2027 AFC Asian Cup matches. It will also revamp four other stadiums and give it a new look in time for the big event.
The Riyadh Stadium will boast of an unique design, fun experience, possibility of adjusting the capacity, in addition to being easily accessible by metro, while Dammam stadium will have modern specifications that suit the region's environment, the fan experience and the aesthetic satisfaction, reported Saudi Gazette.
On the Qiddiya stadium, SAFF said it will be one of the masterpieces that Saudi 2027 will provide to Asia.
The Saudi authorities said the King Fahd Stadium, Prince Faisal Bin Fahd Stadium, Prince Muhammad Bin Fahd Stadium, and Prince Saud Bin Jalawi City will be fully refurbished to ready them for the matches.
The running track in the King Fahad Stadium will be removed and more seats will be added to cater to the thousands of fans who will flow into the country for these matches in 2027. In addition to this, SAFF will set up new facilities within the stadium.
The Prince Faisal Bin Fahad Stadium will be distinguished by the fact that it is located in the centre of Riyadh, in addition to being steps away from the metro station, stated the report.
It will also witness a renovation such as the removal of the running track, increasing the capacity and expanding the facilities, it added.
SAFF President Yasser Al Misehal said: "All the three state-of-the-art stadiums will up and running in time for the AFC Asia Cup 2027. In addition to the Riyadh, Qiddiya and Dammam stadiums, four more will be rebuilt and developed in a different way."
According to him, Prince Muhammad Bin Fahd Stadium in Dammam will witness elaborate renovation process, the first of its kind, for Saudi 2027, such as increasing the capacity and removing the track.
Meanwhile plans are afoot to install addditional equipment at Abdullah Sports City, Prince Abdullah Al Faisal Stadium and King Saud University Stadium, he added.