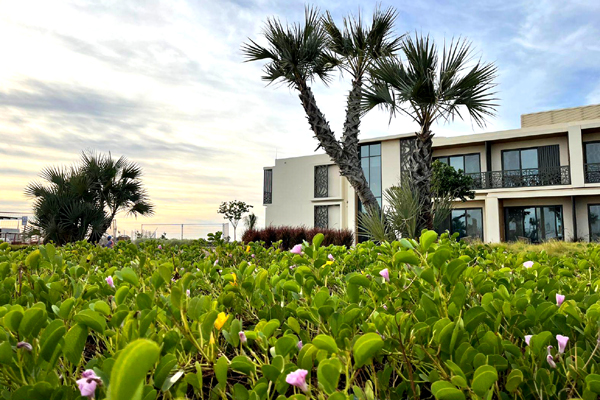 Red Sea Global in first ever translocation of doum palm trees
RIYADH, February 7, 2023
Red Sea Global (RSG), the developer behind two of the world's most ambitious regenerative tourism destinations, The Red Sea and Amaala, said it has completed the first ever successful translocation of doum palm trees.
The initiative closely aligns with the national objectives of the Saudi Green Initiative, while reducing over-reliance on importing foreign species of plants, said the statement from RSG.
The complex nature of the doum's tap root system makes safely extracting, moving and re-planting the tree a uniquely tricky botanical operation.
To overcome the challenges, RSG designed and fabricated custom-made lifting gear to ensure the root systems remained intact and the maximum volume of surrounding soil could be collected, it stated.
"While others would be satisfied to develop at the cost of nature, or to import expensive, fully matured plants as a shortcut to beautiful landscaping, we are constantly pushing ourselves to do things differently, to behave responsibly in a way that prioritizes people and planet," said Raed Albasseet, Group Chief Environment and Sustainability Officer at RSG.
Albasseet pointed out that achieving this feat required innovative thinking, new engineering methods and techniques, and collaboration across industries and specialties.
"It was not easy, but by challenging ourselves, we now have a model for transplantation that can be replicated again and again. That is good for nature, good for our guests, and ultimately good for our business," he noted.
The historic trial, which is part of RSG efforts to protect nature and where possible enhance biodiversity, saw three Doum trees near Umluj that were at risk from urban expansion or drought moved to the Turtle Bay Hotel at The Red Sea. The journey took seven days in June 2022, covering distances of up to 70 km, he added.
Tarik Alabbasi, Environmental Programs Director at RSG, said: "No scientific literature globally investigated the challenges of transplanting the doum tree. We had to develop and test our own, customized methodologies, procedures and tools to safely transplant these mature sized doum palms."
A key aspiration for RSG is achieving a 30% net conservation benefit by 2040 through the protection and enhancement of key habitats crucial to biodiversity.
It regularly conducts environmental surveys of wildlife ecosystems to track impacts and improvements, to optimize its approach and ensure it reaches its regenerative goals, including a largescale Baseline Survey effort for which results were shared last year.
RSG's flagship project, The Red Sea, is on track to welcome its first guests in 2023, when the international airport and the first hotels will open. Amaala will be opened to visitors soon after in 2024.-TradeArabia News Service